If you are like me, photo images have become a way of life. We now add them to blog posts, our Facebook pages and other social media posts, and of course Pinterest. It is always better to use a unique image rather than something everyone else is posting. It's so easy to take an image, add a few words, save it with a unique name and voila, you have a unique image. The sites I tend to visit often are indicated with a (Takara) in their description. But where to get the images online? Obviously, for a blog post or Facebook update, we don't want to pay for photos and images.  But we do want to make sure we are not breaking any copyright rules. Images that you use online for your business need to be free to use for commercial purposes. Otherwise, they are copyrighted and using them is actually breaking the law. Over the years of hunting images, I've come up with several websites that I go to again and again. I've provided the list for you here. Before using an image, even if it is from one of these sites, be sure to read the fine print to make sure the image can be used for the purpose you are intending. Also, many of these websites earn money by offering ads for paid images. So you have to pay attention to where on the site you are clicking. Otherwise you end up on iStockPhoto or another paid site. They have lovely images and I do use them on occasion. But that is more for advertising or book covers, not an image I use for an article or blog post.
Free Photos / Royalty Free Images
Most are free and OK to use for commercial use. Be sure to check the licensing agreement. A few have fees.
All Free Downloads –http://all-free-download.com/ – free images, vectors, etc. – BE SURE IT IS FOR COMMERCIAL USE
Animoto – http://www.animoto.com – has some great photos free with your video
The British Library – http://www.flickr.com/photos/britishlibrary – The British Library has made these images available for use by anyone. There are over a million images.
Creative Commons Search – http://search.creativecommons.org/ – searches lots of sites for commercial use images and photos – this is a great place to start your search
Dreamstime – http://www.dreamstime.com/free-photos?utm_campaign=Listly&utm_medium=list&utm_source=listly – Dreamstime also has paid images
Every Stock Photo – http://www.everystockphoto.com/ – a search engine for stock images. Be sure to read the license for each image you find.
Flickr – Creative Commons –http://www.flickr.com/search/advanced/? Be sure to click the down arrow and choose "Commercial use allowed." (Takara)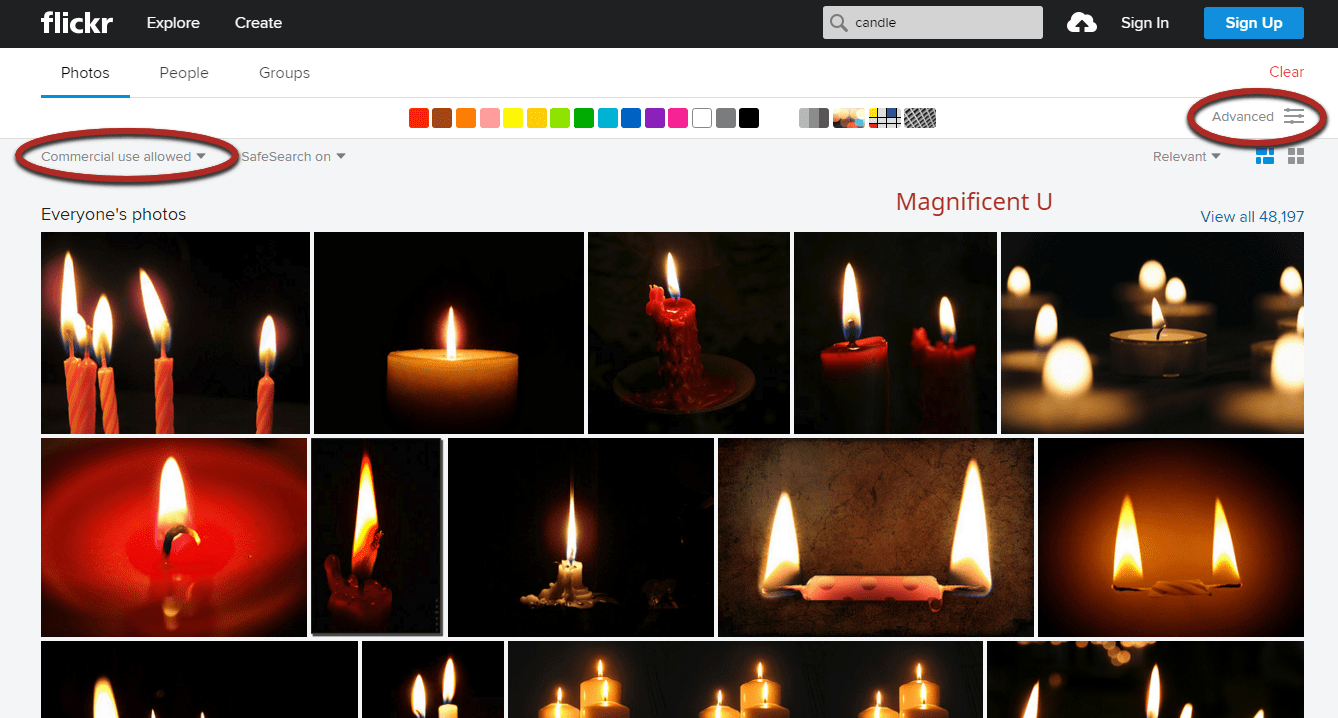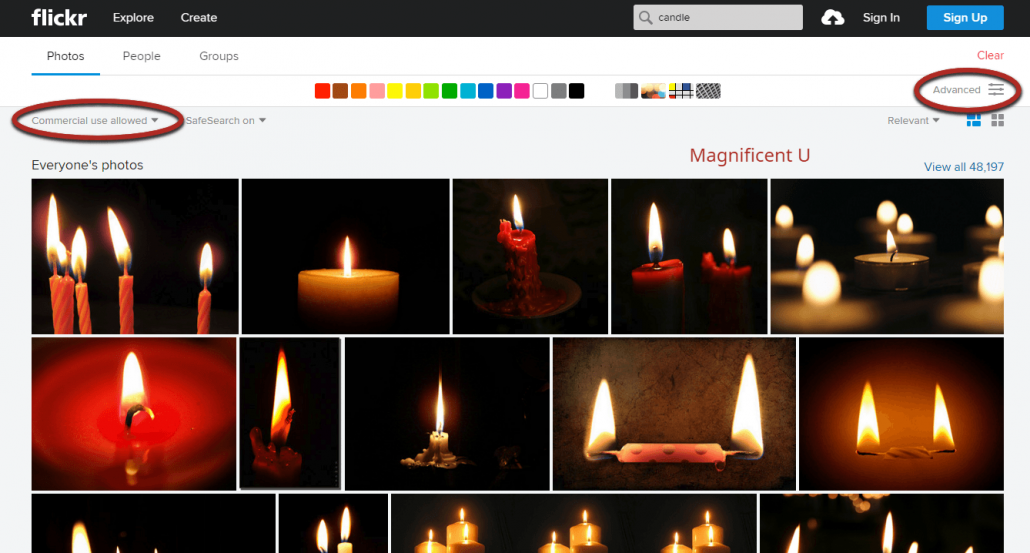 Free Digital Photos – http://www.freedigitalphotos.net/ – small images are free.
Free Foto – http://www.freefoto.com/index.jsp – claims to be the largest quantity of free photos on the web
Free Images UK – http://www.freeimages.co.uk/
Free Media Goo – http://www.freemediagoo.com/
Free Nature Stock – http://freenaturestock.com/
Free Pix.eu – http://freepix.eu/
Free Pixels –http://www.freepixels.com/
Death to the Stock Photo – http://deathtothestockphoto.com/ 
Image After – http://www.imageafter.com/
LibreStock – http://librestock.com/ – a search engine for 40 free stock sites
Morgue File –  http://www.morguefile.com/ – another of my favorite resources (Takara)
PD Pics.com – http://www.pdpics.com/
Pexels – https://www.pexels.com/ 
Photos Public Domain – http://www.photos-public-domain.com/ – thousands of images
Pixabay – http://pixabay.com/en/ – a great source with over 350,000 choices (The first place I visit when hunting images, Takara)
Pond5 The Public Domain Project- http://www.pond5.com/free – images, audio, video
RBGStock – http://www.rgbstock.com/
Stock Free Images – http://www.stockfreeimages.com/
Stock Snap – https://stocksnap.io/
Stock Up – http://www.sitebuilderreport.com/stock-up/
Stock.xchang – http://www.sxc.hu – one of my favorite places to find images. Now called FreeImages. (Takara)
The Stocks – http://thestocks.im/ 
Tookapic – https://stock.tookapic.com/
Unsplash – https://unsplash.com/
Wikimedia Commons – http://commons.wikimedia.org/wiki/Main_Page (Takara)
Clip Art
Free Clip Art – http://www.clker.com/
Vector Images (Drawings)
Free Illustrator Downloads – http://free4illustrator.com/
Free Vectors – http://www.freevectors.net/
QVectors – http://qvectors.net/
Vecteezy – http://www.vecteezy.com/
Vector 4 Free – http://vector4free.com/
Vector Characters: http://www.vectorcharacters.net
Vector Open Stock – https://www.vectoropenstock.com/
Vector Portal – http://www.vectorportal.com/
U.S. Government Public Domain
US Gov Royalty Free Photo Search Engine – http://www.dotgovwatch.com/?/archives/8-Best-Copyright-Free-Photo-Libraries.html
Air Force – http://www.af.mil/photos/
Library of Congress – http://www.loc.gov/pictures/
National Park Service – http://www.nps.gov/pub_aff/imagebase.html – National Park Service. Releases. All photographs and images in this archive are "public domain" images. You are free to use these images without a release from the National Park Service. However, the photographs and images must not be used to imply National Park Service endorsement of a product, service, organization or individual. Photo Credits. Credit photographs to the National Park Service.
National Science Foundation – http://nsf.gov/news/mmg/index.cfm?s=0 – National Science Foundation
United States Geological Survey – http://gallery.usgs.gov/ –
U.S. Fish and Wildlife Service – http://digitalmedia.fws.gov/ – U.S. Fish and Wildlife Service
Additional choices I've heard about but not used:
Bible Places – http://bibleplaces.com/  – You may not use more than 10 images, the size of the images must be not more than 400 pixels wide, and the images must include a credit link on each page they are used to BiblePlaces.com
Paid Photos / Images
Canva – https://www.canva.com/ – many images that cost much more on other sites only cost $1 on Canva … and you can design your graphics there as well.
Deposit Photos – http://depositphotos.com/home_buyer.php – I haven't checked their prices recently. Discounts often available through their mailing list.
iStockPhoto – where I typically purchase images for more important projects – http://www.istockphoto.com – their prices have changed.
I keep expanding this list – so come back to visit whenever you need images!
Save