If you're blogging for business or blogging as a business the last thing you need is to work your fingers to the bone producing content only for it not to be seen or read by your target audience.
On a super crazy busy day (aren't they all) you need options to seriously maximise the return on your blogging for little extra effort. Following are some tactics to achieve just that:
Search Engine Optimisation (SEO)
Let the likes of Google and Yahoo help promote your blog posts by improving your search engine optimization. Actions you can take to improve your SEO include:
Choosing keywords (especially long-tail / phrases) to include within your post without 'stuffing' it. The Google Adwords tool will help you identify keywords that have low competition but strong traffic.
Installing a plugin such as All-In-One SEO and completing the title, description and tag fields with your keywords.
Linking from your new post to relevant past posts. Make sure the words you include in your link (anchor text) are keywords. Help your reader dig further into your content so they spend more time on your site and are more likely to subscribe.
If you have images in your posts, name the file with your keywords and complete the alternate text and description fields once uploaded to your blog.
These actions might take two minutes extra but are definitely worth the investment.
RSS Feeds
Set up an RSS feed for your blog.
A lot of experts will argue not to do this given it's preferable readers subscribe to your email list. Personally speaking, it's frustrating when I find a new blog I like without an RSS feed. I might not be ready to 'commit' to subscribing yet but want to know when the next post is published so I can get a better feel for the writing. Who says I won't subscribe the next time?
Blog Directories
Being listed in blog directories will help send traffic back to your site. It may seem a little time consuming at first but once submitted your listing is there to stay and will continue to work for you.
Why not spend five minutes focused on submitting to five directories a week? For two excellent directory lists look at TopRank.
Social Media
It might seem obvious but so many bloggers don't make the most of social media platforms when it comes to promoting their posts. Tips to increase effectiveness are:
Facebook – Update your status with the blog post twice on the day it's published. Include a call to action such as 'share' or 'comment' to lift the exposure of the post. Put the link to the post in a comment as Facebook seems to be really punishing external links in updates.
Twitter – You can afford to tweet about the post at eight hourly intervals over the first two days without upsetting your audience. You will reach different followers each time.
Pinterest – Make sure you have a great image including text as to the topic of the post and your URL.
LinkedIn – Share your post with relevant groups on LinkedIn. It's all too easy to ignore LinkedIn but if you're targeting a professional or business audience you need to be there.
Don't forget to automate distribution of your posts via tools such as BufferApp, Hootsuite and IFTTT to save you even more time.
Slideshare
Consider converting your content into a slide show and posting on Slideshare. Not only will an enormous audience have the opportunity to view your presentation, Slideshare is brilliant for Google juice.
Not so good at design? For your 'epic content' consider outsourcing design on Fiverr or Elance.
Take Action
Are you already doing everything above to promote your blog posts or do you have work to do?
Share in the comments your commitment to improve the leverage of your posts. If you are employing other tactics be sure to share them too!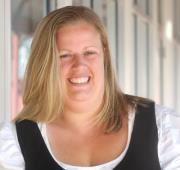 Caylie Price, owner of Better Business Better Life , is currently working her way around the interwebs with her 21 day Blogging For Growth tour.