It seems like only yesterday that I found myself suddenly awake in my wonderful home atop Palomar Mountain in Southern California … a beautiful sacred mountain just east of San Diego. It was 4 am precisely and there were words screaming to be written down about healing the water and connecting to dolphins and whales. It was 1998.
I knew how important it was to capture the words on paper whenever they "come in" that way … so I got out of bed, found my pad and pen, and began to write. What started as a few thoughts quickly flowed into a powerful, transformational healing meditation for all the water on the planet, as well as dolphins, whales, and all the people who participated.
Dolphin and whales had already had an extraordinary impact on my life.
Overwhelming stress from my job as an engineer and manager in pharmaceuticals manufacturing caused me to open up what seemed a Pandora's box of unhealed emotional wounds … including suddenly remembering I'd been raped in my late teens and had completely surpressed the memory. After making a few visits to a psychotherapist to help deal with all that, I quickly turned to meditation and alternative healing for support. As soon as I learned to meditate, I surprisingly and delightfully began to see, sense, and feel myself surrounded by dolphins. Along with seeing and feeling them, I was being completely engulfed in a tsunami of transformational healing energy from these dolphin beings I later came to call dolphin-angels. From that moment forward, each time I closed my eyes to do a guided meditation, the dolphin-angels would show up along with their powerful healing energy.
This had been going on for a year or two when I was guided (had an inner absolute knowing) that I was to attend Stuart Wilde's 8-Day Warriors in the Mist training in the mountains of New Mexico. Stuart had become my Metaphysical Mentor. I'd read all his books and listened to his various audios countless times. At the Mist training, I met a woman from the San Juan Islands off Washington State who was hoping to start a non-profit for dolphins and whales.
She shared with me the story of Lolita … a magnificent orca from the San Juans who had been captured 1970 somewhere between the ages of 4 and 6 (reports differ), separated from her mom and family, hauled out of the water in a sling, placed on a truck and transported to SeaAquarium Miami where she remains enslaved to this day. The story touched me on such a deep level I hardly have words.
Before long I'd left my job at the pharmaceutical company in Pennsylvania and moved to the San Juans to live near Lolita's family and co-found the non-profit for dolphins and whales with the woman mentioned previously. We traveled to Miami and I got to meet Lolita.
I had quite an encounter with her 20+ years ago when I went to visit. We were the first in line and ran up the entrance to stand next to her tank until it was time for her show to start. She came over to us and just stared. She never left, she never swam around. She ducked her head underwater a few times to get it wet and then came right back up to stare at us some more. Even the trainers noticed this odd behavior. The whole time she was performing, the trainers were pointing in our direction wondering who the heck we were and why she was behaving the way she was. She and I are deeply connected – truly like sisters – and I promised her that day that I would continue to share her story and to do whatever I could to help her become free and return to her family.

So being called upon to help the oceans and other dolphins and whales made total sense.
The "need" to get as many people involved as possible to do the meditation simultaneously at Equinox was something I knew I was being prompted to do. I contacted several people and organizations that promoted global events including Barbara Wolf who had a mailing list for people who did global meditations. When I shared with her about the meditation I'd "received," she suggested I contact David J. Adams in Australia and she gave me his email address.
I find it deLightful how amazing events unfold, synchronicities occur, and wonderful people show up in your life when you follow inner guidance. Following the intuitive nudge to contact Barbara and then listening to her advice about contacting David has resulted in a 20-year (and still going) collaboration with this extraordinary man in Australia that to this day I've never met in person.
When I shared with him the meditation I'd received, he responded by sharing the one he had received 6 years prior (in 1992) called the Global Marine Meditation. As I read the words he had received, I was overwhelmed by how similar they were to the words I had "downloaded" from the Universe only a few days before. Here I was a female in North America getting information about water healing and a man across the globe in Australia had received almost identical words 6 years earlier. Discovering you are communicating with someone who is "tuned to" the same cosmic channel you are is a profound realization.
We immediately decided to "team up" and have been co-leading the meditations ever since.
Every year the frequencies rise and the energy coming through David and I and many others increases.
We invite you to join in for the Golden Water Dolphin Meditation for Planetary Healing and the Global Marine Meditation. As you read out loud or listen to the words, you will experience these vibrations on every level of your being. And you will add voice, intention, and healing energy to the focus of healing the waters of planet earth.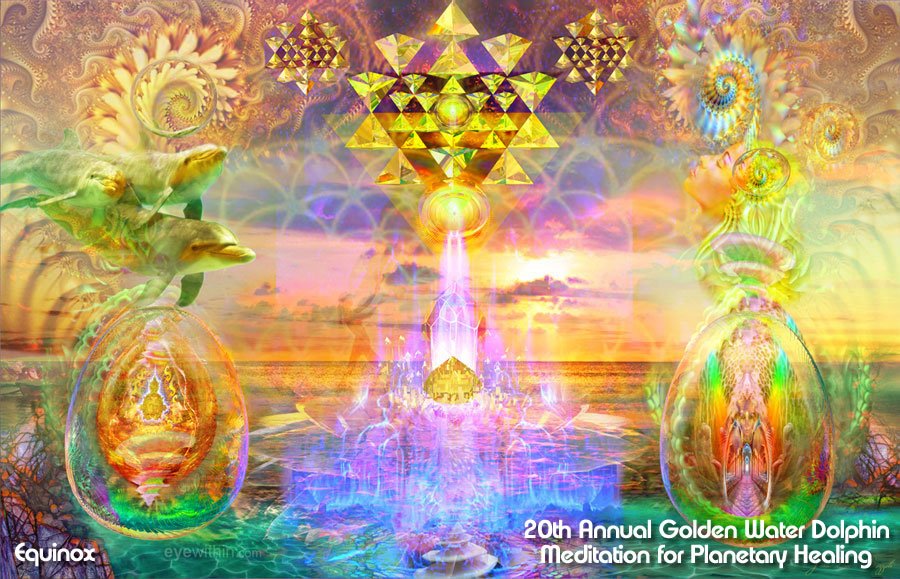 Bring your love, your joy, your intention, your desire to be of service and
Join this Equinox, March 20th for the
20th Annual Global Meditations for the water and the cetaceans!
Visit this link

(

http://www.dolphinempowerment.com/cetaceanmed.htm

) for more information and to download an audio of the Golden Water Dolphin Meditation for Planetary Healing recorded in my voice encoded with healing energies for you to enjoy and utilize as you participate on that day or at any time with the meditations.
As David always says:
"Sending Oceans of Love and Love of the Oceans"
Thank you Jean-Luc Bozzoli for this extraordindary image which he donated for the 20th anniversary. His website is https://www.eyewithin.com/