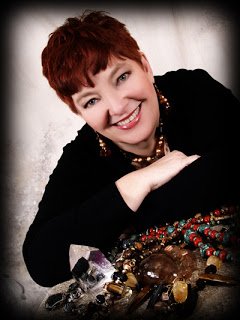 (c) AnnaMariah Nau
February and Valentine's Day bring thoughts of love and romance.
I initially thought maybe I'd post something with a heart on it…but really, that's a bit over the top even for me sometimes.
I got to thinking about love and what's important about it. Romantic love is all flowers, poetry and often just a bit of angst. But that is fleeting and isn't what really sustains us throughout our life.
The most important love we can have is love and compassion for ourselves. If we cannot accept and love ourselves then we can't truly be truly open and loving with anyone else. We know both our vices and our virtues. Unfortunately in our culture we've often been taught to focus on what's wrong with us rather than what's right. We can't seem to look in a mirror without seeing every flaw, completely missing all that is beautiful. It's this same critical eye and thought process that continually brings us down and when we can't accept and love ourselves, we judge everything and everyone else around us as well.
Rhodocrosite is a lovely pink/peach stone that helps your heart heal and allow in some compassion and love for yourself. Rhodocrosite is an interesting stone – its colors range through various shades of pink and peach, mottled with tans, even bits of browns and blacks and the best of the stones have a beautiful translucent quality. Really when you think about it, it's kind of like the human soul/personality. Parts of us shine and are translucent while other parts are slightly flawed with dark bits here and there (our vices and failings), but when you look at the whole it can be quite beautiful because of its variety.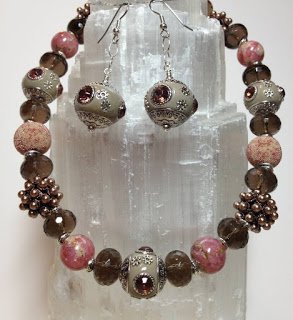 Wear Rhodocrosite and learn to appreciate and accept all parts of yourself. Rhodocrosite will also help blast away negative patters and emotional clutter helping you to build healthier patterns as you resolve inner conflicts. This beautiful stone will also help bring to life gifts that you may have left behind due to wounds or trauma from your childhood. As you open to your courageous heart, your joy and playfulness return, bringing you back into balance with your inner child.
Wearing Rhodocrosite is like giving yourself a giant hug…and then expanding that love into the world.
The necklace shown here – Fun Fabulous Focused Love, really speaks to the playfulness and joy. Give yourself a gift of love. When you truly love yourself – everything else in your life begins to improve and get richer.
Link
http://www.boldbodaciousjewelry.com/large-multi-view/Gemstone%20Highlights/2078383-1-167377/Gemstone%20Highlights.html#.UQ6032fhfN8
AnnaMariah creates beautiful, one of a kind pieces that transcend jewelry. As a gemstone empath she connects deeply to the energy of the stones. In her hands a simple necklace becomes a tool to balance and support your energy, as well as making you look fantastic! She focuses on the beauty and magic inherent in the stones, so her pieces are always unexpected. When you find the piece that is right for you you'll be amazed at the transformation as it connects with your energy and brings out your inner radiance in ways you hadn't considered yet.
Bold Bodacious Jewelry
http://www.boldbodaciousjewelry.com
annamariahnau@gmail.com
703-763-1655
Return to the Magnificent U Home Page

D. Takara Shelor is a bestselling author, award-winning speaker, engineer, and consultant helping individuals and organizations discover their true magnificence so they can thrive in business and in life. She acts as a catalyst and facilitator of radical positive change providing tools, training, and support to people who are tired of feeling suck and are ready to catapult themselves into high gear both personally and professionally. She says, "Life is a magnificent adventure ... remember to enjoy the ride!" Get her free 7 Secrets to Dancing Through Life EmPOWERed, EnRICHed, and Living in Joy ebook to join her email list by visiting
her gift page
Enjoy Takara's Magnificent U Bestselling Author Blog:
Magnificent U
https://www.magnificentu.com/wp-content/uploads/2018/09/MagnificentU-4-1-300x70.png
0
0
Takara
https://www.magnificentu.com/wp-content/uploads/2018/09/MagnificentU-4-1-300x70.png
Takara
2013-02-04 18:30:42
2015-06-04 18:33:31
Love Yourself First - Be Your Own Valentine