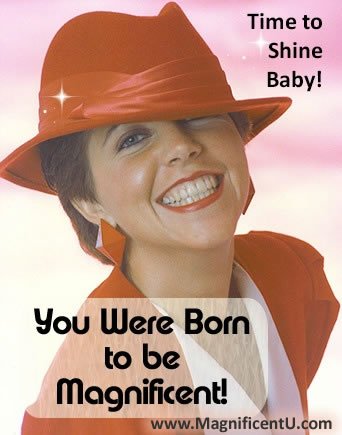 You are on a hero's journey. Your life is your quest. The events that make up your daily life experience are the hurdles and obstacles you have to climb, conquer, and find a way to overcome to reach your desired destination. No hero starts out that way. They begin as some ordinary, unassuming person from a village somewhere. Then something horrible happens. There is a big issue or situation that has been suddenly thrust upon them.
So the hero in the making sets off into "zones unknown" as Dean Black puts it. He/she has to decide the quest is worth it, often facing a fairly high level of fear and trepidation along the way. They have to leave the comfort and security of what they know and understand and head out to see and experience people and situations that they never even knew existed when they were back in the village.
The hero has to do things they never thought they could. They have to reach deep down inside themselves and find the strength and courage to deal with whatever comes their way.  It's not for the faint of heart. And yet, you are already on such a quest even if you don't realize that you are.
If you are unhealthy, unhappy, or unsuccessful, then those are the obstacles on your path right now. Most things like that don't just jump up and surprise you. They were a long time in the making. In fact, it might have been several generations in the making.
Nothing of any consequence is achieved overnight. It takes considerable time and effort and it often requires help.
If you are one of those people who thinks you can do it all on your own, then listen up:  If you had the tools, confidence, and knowledge necessary to fix the problem on your own, you would have done so already! Would you not?
You can be healthy.
You can be happy.
You can be successful – however you define success.
The only thing you have to change is the one thing that you truly can . . . and that is you!
Sin is wrong thinking. Thinking that sickness, poverty, disappointment, and struggle are "normal" or inevitable is wrong thinking.
There is an idea that says you are the sum total of the 5 people you hang out with the most. Think about it. Who are they? What is their life like? What do they think about? How kind are they? What do they feel is important? What do they judge? What do their income level, education, and dreams about the future look like? And is that what you want for yourself?
You don't have to replace all your friends to shift this. You can begin the process by feeding your mind new information through books, articles, audios, videos, and workshops. Make nature one of your friends. Spend time each day in quiet contemplation, in silence, in meditation. Journal your thoughts, your insights, the new things you are learning.
If you want to change, then you have to step out of the comfort zone of the people you hang out with and do something different. I prefer the radical approach. I liken it to jumping into the deep end of the pool without first sticking your toe in to see how cold the water is. You move across the country or even the world. You marry a foreigner. You leave the corporate world and strike out on your own. That's my way.
Why?
Because the idea of being anything less than my full potential is just not O.K. with me.
Most people can't handle the insecurity of such a radical lifestyle. I happen to thrive on it. It proves to me that if I can do those things, then there is no reason I can't also achieve all of my dreams. If I can muster up the courage to start my own business, then becoming a bestselling author is also within reach. If I can jump on a plane to live aboard a million dollar yacht in Fiji, then manifesting a more luxurious lifestyle has to also be possible for me.
When I made the bestseller list, it was both exciting and surprising. Surprising because this is not the book that I thought would be the "big one." I was convinced that the big one was one of the books in the 5-book New Dance series that I'm currently penning. So, I wasn't attached to this book being a bestseller. And that is probably why it became one. I was not all wrapped up emotionally in its success. Even though it was a bit exciting, it was also fairly anticlimactic. O.K. I now have the title. What now?
Even though I wasn't emotionally attached to the outcome, I knew I had to do whatever I felt Divinely guided to do in order to get it out there. What it required of me was definitely outside of my comfort zone. I had to muster up the courage to do things I was uncomfortable with. But that's what it took to achieve the thing. So that's what I did. It was definitely not easy. And most people would never be willing to get that uncomfortable to achieve their dreams. That's why most people never achieve them.
Often the Universe forces you to be the hero of your own life. You lose your job, you get cancer, your spouse cheats. You know . . . the typical disasters that make you sit up and take notice . . . and finally agree that your life needs to change and it is you that must change it.
Everything I offer is designed to help you along your spiritual journey, your personal quest for the Magnificence of self:
Meditation keeps you sane, balanced, and able to hear the still small voice of Divine wisdom,
Dowsing helps you fine tune your intuition and send a neon sign to the Universe saying you want answers and Divine assistance,
Private Long Distance Energy Sessions help to clear out the energies you have not been successful at clearing and to activate and "turn on" the various codes lying latent within you,
Dancing Dolphin Energy Healing Products and Healing Technologies lift you up significantly in vibration and offer every possible type of support you could need anywhere along your way – from something to just help you calm down to things that act like dynamite clearing out and releasing you from the past,
The various books offer insights and wisdom to help you understand more about yourself, the spiritual journey, how life really works, and the quest you are on,
The new workshop series will offer an opportunity for you to learn the best ways to work with the Dancing Dolphin products and the techniques for yourself or with clients and groups. If you have a center or a group and would like to host a workshop, please let me know: takara@magnificentu.com.
Much love to you Dear One. What you make of your life is up to you. I send you blessings and Light for a prosperous, healthy, and magnificent new life.
Return to the Magnificent U Home Page
27 comments: