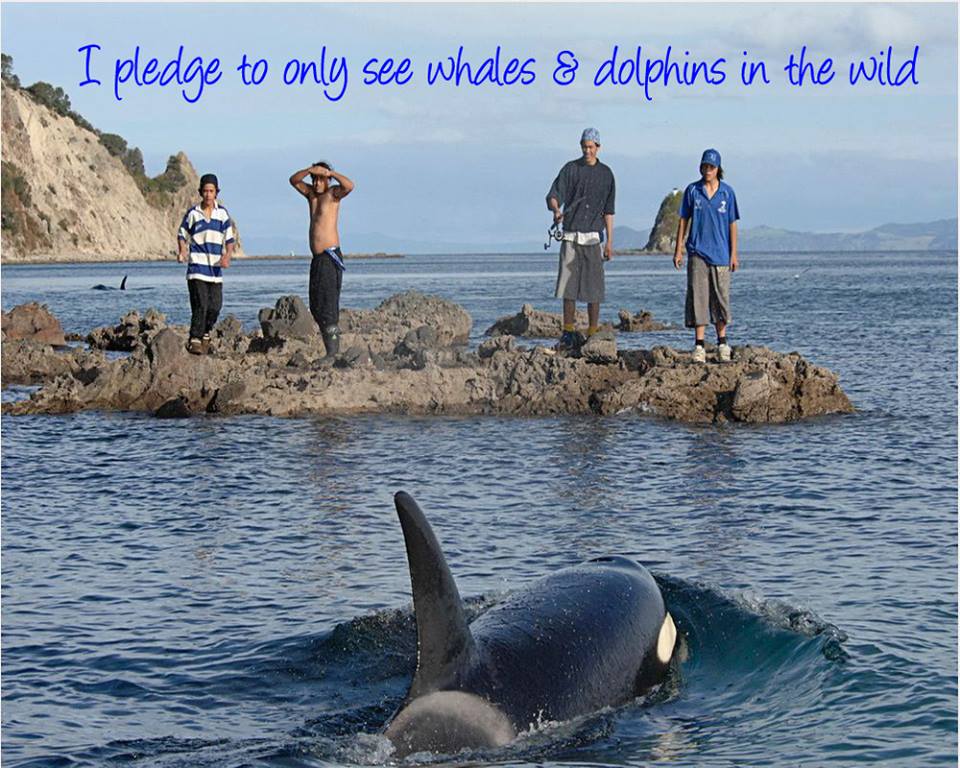 I can't see a dolphin in a tank or a pen, even in a picture, without shedding a few tears. I have been shown again and again that their freedom represents our own freedom. I long so deeply for humanity to wake up and be free of their own limitations, fears, beliefs, judgments, expectations, mistreatment of others and themselves (their self-imposed net or tank).
We have a choice to break out of our mental and emotional prisons.
They do not have a choice to jump out of their tank – although recently some have jumped out of the tank and some have escaped the net. If they wanted to be there, I don't think they would do either thing. If a dolphin would rather jump out and die on the sidewalk than be stuck in a tank, I think it's obvious that that dolphin is not choosing captivity.

The reason I feel the way I feel about wild dolphins vs. captivity …
Have you ever lived near a pod? Like neighbors, two or three times a week you see them around town (various locations just off shore of the little island you live on). They are your neighbors. You know them all by name. You recognize their saddle patch and their dorsal fin. When you see them, you get very excited and wave, saying hello to whomever it is. They leave sometimes (migrate) and you miss them terribly.
As soon as anyone on the island sees the first one return, they call and tell someone who tells someone else and it continues basically until everyone on the island knows that our neighbors the orca family have returned. There is great rejoicing. It gets announced over the radio, talked about on FB and on the internet. Everyone there loves the whales. Most of them have boats and they go out to see them. You feel great joy at their return.
You get excited and send loving congratulations to them when you hear someone has returned with a new baby. They are your friends. They become like family. You have a resonance, rapport, and love for certain ones that is as deep and meaningful as the fondness I have for a few of my most precious friends.
When one of them dies, you feel a great sense of loss and you send condolences mentally and through prayer to the family. The orcas are matriarchal and never leave their mother their whole life. They remain with mom even after they give birth. So now the baby is also part of that family. Their life expectancy is similar to ours. So a 3-year-old is very much like a 3-year-old human child. A 6-year-old is very much like a 6-year-old human child. Now in physical maturity and ability to have offspring, those probably don't apply. But you still consider them the same as human children.
Hearing Lolita's story changed my life. I literally left a high-paying corporate job to move to the San Juans to start a non-profit to assist in her return. Watching her capture scene broke my heart. When I met her, I felt as if she was literally my sister – in the truest sense of the word. I long for her presence and I cry for her situation. I know her and I know her mother. I know her whole family. For me, hearing what happened to her, the horrors of how she was captured, I try to imagine what it must have been like for the whales. That's what they call orcas in the Northwest. And yes, I do realize that's me projecting human emotions onto sentient animals.
I own stills and video of her capture. I've heard the man speak who put her in the sling. He was never the same and is an adamant objector to captivity. As he tells is, they used boats and explosives to round them all up into a sea pen. They were under great distress. The captors separated Lolita out and got her away from her mother and family. They forced her into a sling and they removed her from the water to haul her away never to return. John Crowe, the 18-year-old diver who was hired to help, said as he maneuvered her into the sling that all the orcas were screaming and they even lined up together and screamed together. He said the sound was deafening. And then, as soon as Lolita was lifted out of the water, the screaming instantly stopped, there was a profound and haunting silence. He found it completely overwhelming. He still gets tears in his eyes all these years later when he tells the story.
Since they are like my best friends and neighbors, I liken it to a group of guys showing up at your neighbors house, setting off bombs, shooting bullets all over the place and then stealing the 6-year old daughter. Thinking about what it would have been like to have that trauma and have my 6-year old child stolen makes me weep.
I developed such a rapport with the orcas that I could literally feel when they were present. I would be on the east side of the island and suddenly "know" the orcas were nearby. I'd speed across the island to the west side, park quickly, and scamper to the top of a hill. As soon as I sat down, the first fin would break through the water. And then for the next 30 minutes I would watch the family go past.
They are my kin. I love them to the depth of me. And capturing them and putting them in a tank simply is unbearable from that perspective. Tanks and nets for dolphins are the same as slavery and prison for humans in my book. Thinking that just because a dolphin was born in captivity "so it's O.K." is like saying "this child was born into slavery, so the child is not really a slave."
Really?
Hmmmmm
May you have a truly blessed day,
Takara
Image by http://www.freemorgan.org/
Return from Wild Dolphins and Whales to the Magnificent U Spirituality Home Page