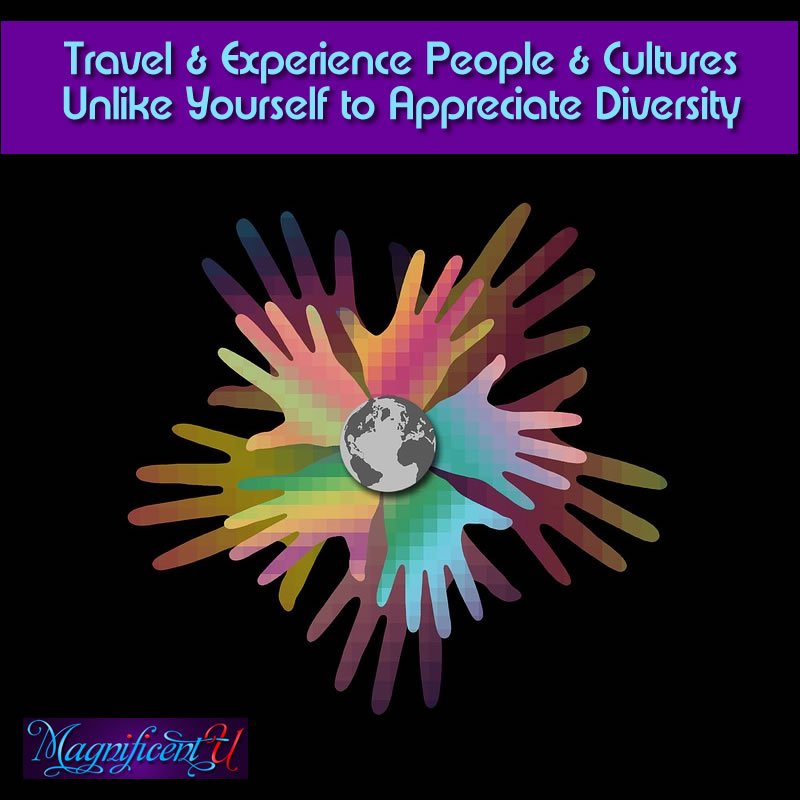 Every time you go somewhere new, you become a new person … with a new perspective, new experiences, and new insights. The more you travel and experience new things, the easier it becomes to appreciate cultural diversity, and to transform your life.
Tears started streaming down my face as I read the article and watched the video mentioned below about cultural diversity in the classroom.
Experiencing and appreciating cultural diversity is one of many reasons I love to travel. This is why I love moving to different locations, meeting new people and surrounding myself, enveloping myself, in the different energies of ethnicity, of belief, of tradition and history, of the colors and texture of diversity, in order to understand the beautiful tapestry of humanity and truly KNOW and become ONE with it.
Enjoying the Company of Others
As a young child, my father sometimes traveled with business, and on occasion, my mom and I would come along. We once spent a week in Birmingham, Alabama and every day when the housekeepers (all African American women) were finished cleaning the rooms, they sat in a circle of chairs at the end of our hall, told stories, and laughed. I begged my mom to let me join them. They said they didn't mind. Every day I sat with them and listened to their stories and laughed too. I have no idea what they thought of the skinny little blonde girl from Texas.
As we studied history in school and I read about the atrocities inflicted on the Native Americans, the African Americans, the Chinese and so many of the other cultures by the white people, I would weep, not being able to understand how anyone could mistreat another.
A White Chic (chick) Living in a Non-White World
It was so odd at first to be living as a minority, a white woman in a sea of beautiful brown skin, dark eyes and hair, of the Native American, Spanish, and Mexican cultures of New Mexico. At 5'4″, I was actually rather tall for a female. It was there that I was so blessed …
to have indigenous elders from many traditions from all over the globe come to my home, break bread at my table, and tell stories for hours.
Appreciate Cultural Diversity through Personal Experience
I've taught my son to appreciate diversity. From the Native American traditions, he's attended Pow Wows, Feast Days, and Solstice ceremonies throughout the U.S. and Canada. He's participating in sweat lodges, learned about medicine wheels, visited many pueblos, and gained a deep respect for nature. We had a Japanese exchange student come to live with us. And we spent time with natives Fijians in their villages as we island-hopped in the South Pacific while living on a yacht. He's had a taste of cultural immersion as part of his overall homeschool and life experience. Having a Canadian father, he's traveled to Canada and enjoyed the culture and landscape of that country many times. I even wanted him to get to experience multiple modes of transportation. He's been on trains, planes, buses, boats (both sailing and motorized), subways, and trams. In each of those modes of transportation, the opportunity is there to meet new people.
We need more teachers like this one.
https://www.washingtonpost.com/news/answer-sheet/wp/2015/11/24/teacher-a-student-told-me-i-couldnt-understand-because-i-was-a-white-lady-heres-what-i-did-then/ 
Visit Festivals to Get a Flavor of other Cultures
Many major cities (and even some smaller ones) have festivals that celebrate various cultures. I've always enjoyed going to these, tasting the various foods, watching the dancers, musicians, and other performances, seeing the costumes, listening to the lectures or whatever is being offered to help you appreciate the culture.  Santa Fe had an extraordinary Japan Festival while I lived there with Taiko drummers flown in from Japan to perform and an elegant (traditional) tea ceremony that everyone could enjoy. Greek Festivals are quite common throughout the U.S. Oh how I love the food! Cities like Washington, D.C.
Santa Fe had an extraordinary Japan Festival while I lived there with Taiko drummers flown in from Japan to perform and an elegant (traditional) tea ceremony that everyone could enjoy. Greek Festivals are quite common throughout the U.S. Oh how I love the food! Cities like Washington, D.C.
I don't know about other college campuses, but Virginia Tech (my alma mater) in Blacksburg, VA has an International Festival celebrating cultures from around the globe with an endless choice of foods and performances all day.
Cities like Washington, D.C. have an endless list of choices for cultures you can choose to enjoy just by showing up for a festival. Trip Savvy lists these Best 15 Cultural Events and Festivals in Washington DC.
Read and Watch Videos to Understand Other People and Cultures
Nothing can take the place of actual personal experience. But if you don't have the funds, time, or for some other reason can't travel, then books and documentaries can help you experience and understand other people and cultures.
From books and movies set in other countries to documentaries about particular religions, countries, or some aspect of another culture, much can be learned by reading and watching.
I'm currently publishing a book by Cat Parenti that is her personal memoir of the 20 years (age 20 to 40) she spent living among the people of Afghanistan.  She describes the people, the beliefs, the food, the textures, sights, and sounds so well, it's as if you are truly experiencing it yourself. The story is so epic and moving, I decided to become her publisher after reading it the first time. It is the first book I'm publishing under my publishing label for a book I didn't write.
The Real Journey is Within
I remember when I was at the top of my game in business and decided to "ditch normal life" at the age of 33 and headed off into the sunset, moved to an island, began to travel all over the place, and truly started becoming my true potential. I've always traveled, but it took on epic proportions beginning then.
I'm watching as my friend Kate Buck Jr. is doing exactly what I did. She was at the top of her game in business, speaking on big stages, having thousands of students take her online programs and enjoying contracts with major companies.  She closed the door on her business (at least for awhile) and headed to Europe. She's traveling to numerous countries and learning and growing every single day.
That's just what happens when you take an epic travel journey. It becomes a personal pilgrimage that acts as a catalyst for personal empowerment, transformation, spiritual unfoldment, expansion of awareness and consciousness.
Every moment of every day is part of our spiritual evolution.
We sometimes get so caught up in the hustle and bustle, the daily trials, stress, and business of everyday life, that we sometimes get stuck in a rut. Going somewhere new, even for a little while, totally shifts the paradigm. The bigger (or longer the time period) the journey is, the greater amount of personal growth and transformation that can occur and the less the old can keep you in its grasp.
Humanity loves distraction … constantly "doing" things and going places, flipping on the tv the second you enter the house, constantly texting or talking to others, never a moment to just "be," to go within, to write in a journal, to inner-reflect.
You need to spend time every day inner reflecting.
Silence is the Key to Transformation
When interviewers ask me about what practices I recommend people do to come into the state I call the 4 Noble C's (calm, clear, confident, and Divinely connected), I describe for them five different practices.
One of those five is time alone in silence in nature. But even time alone in silence at home is truly powerful.
When I first woke up spiritually, I was still an engineer and manager at a pharmaceutical manufacturing facility. The second I got home from work, I would turn off the ringer on the phone and spend the entire evening (or entire weekend) in silence. I often went to a park and just sat on the ground with my back leaned up against a tree or hiked through the woods. I didn't talk to anyone. I didn't listen to any other person's voice on the television, radio, or on the phone. I sometimes put on beautiful uplifting music … but never music that had words … just instrumentals or sometimes nature sounds.  I definitely wouldn't be texting with anyone.
I would occasionally read transformational books or spiritual adventure novels, but mostly I was in silence.
I highly recommend meditation. And, as I'm sure you are probably aware, I have a bestselling book on the subject called Peering Through the Veil. I talk about more ways to inner reflect in there.
Inner Journeys (shamanic journeys and other forms of meditation) are often more powerful and transformational than outer journeys in the world. The sights, sounds, "beings," and experiences you can experience are extraordinary.
Have a beautiful day and remember to appreciate cultural diversity,


P.S. If you've read Peering Through the Veil and enJOYed it, I would so appreciate it if you headed over to Amazon and gave it a review. THANKS SO MUCH!