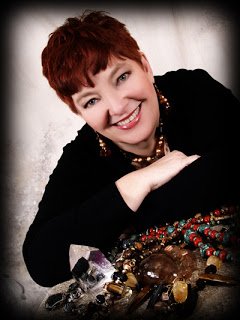 (c) AnnaMariah Nau
September brings with it a feeling of new beginnings. I think it's ingrained in our American psyche that "Back to School" is in many ways the start of a new year. If your birthday is this month, it probably feels even more like a new year beginning. Start your new year off with a stone that will support you in connecting more fully with the fullness of who you are.
Lapis or Lapis Lazuli with its intense royal blue and flecks of gold brings to mind thoughts of richness, royalty, Cleopatra, and the night sky.
Lapis feels deep and a little mysterious. This makes sense when you consider that it helps you connect to your own deepest wisdom in a way that you can fully access and bring the full strength of who you are into the world.
Wearing lapis will help you step into the truth of who you are, who you have been, and who you are to be. You can access sacred knowledge with this "stone of total awareness" which helps you to expand your awareness and intellectual capacity, allowing for conscious attunement to the intuitive and psychic aspects of your nature.
One of the most dramatic demonstrations of the power of lapis came a few months ago. "Sherry" is a woman who always seems very grounded, aware and in her power. I knew the lapis would resonate with her, but I wasn't prepared for the dramatic effect it had when she put it on.
Instantly there was a shift and I felt as if I were looking at an ancient high priestess who simply exuded wisdom and love. Her eyes were brighter, her spine was straighter, there was a regality about her that was undeniable. I had the strangest desire to bow, or at least pay homage to the wise woman before me.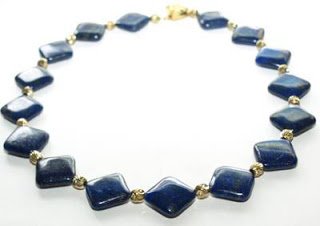 When she walked into the room of our weekend conference in her "Cleo" necklace, a couple of people actually gasped. For the rest of the weekend I heard comments about what a change it had made, about how focused and empowered she seemed. The great thing about a shift like this is that it isn't changing who you are, or imposing something different on you, it is strengthening and deepening the "You" that can fully access and utilize higher forms of awareness and understanding.
Open your third eye and your throat chakra with this stone and you'll find that you not only have access to ancient wisdom, but you can communicate it with surety and elegance. Wear lapis and step into who you are meant to be and share the gift of "You" with the world.
AnnaMariah is a gemstone empath, Reiki Master, and guardian of the stones who listens to the guidance of the stones to create transformational gemstone jewelry. Each stone is reactivated with the original energy of creation and is tasked to assist the wearer or recipient of its energy to awaken to full consciousness of who they are and what is theirs to do. In this way you step out of the darkness and into your full light of being.
Bold Bodacious Jewelry
http://www.boldbodaciousjewelry.com
annamariahnau@gmail.com
703-763-1655