EnJOY 4 Wild Dolphin Swims in the
Dancing Dolphin Hawaiian Deep Dive
7-Days in Paradise – the Big Island, HI, Oct. 23-29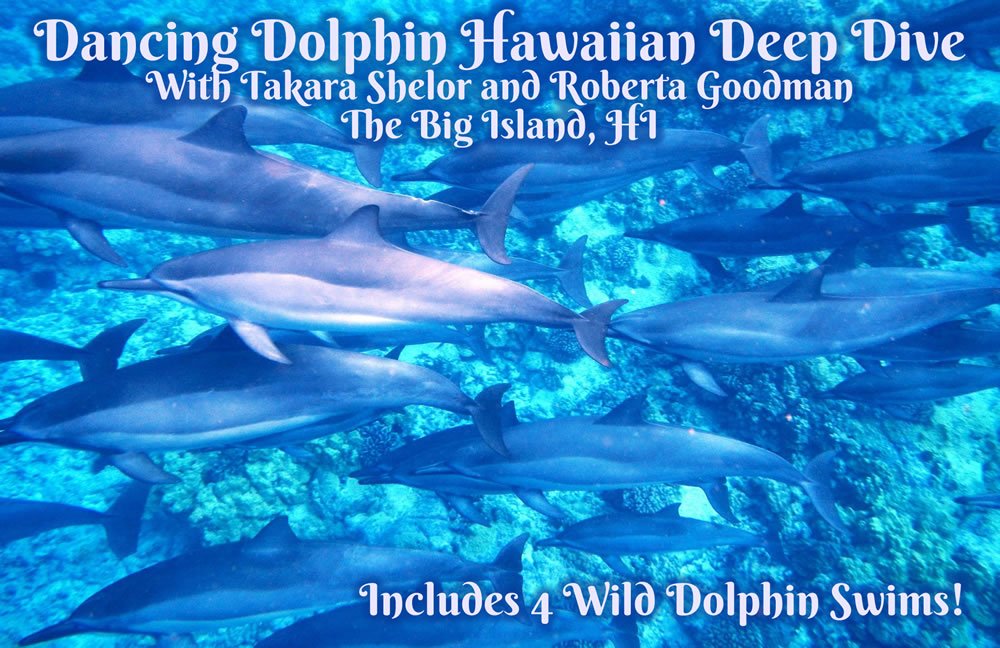 EnJOY 4 wild dolphin swims during this powerful adventure on the Big Island
as you take a deep dive into healing & aligning with your true essence self
with the help of wild dolphins and Takara's etheric dolphin healers.

Join bestselling author & dolphin energy healing alchemist, D. Takara Shelor, &
best-selling author, ocean guide & owner of Wild Dolphin Swims Hawaii, Roberta Goodman,
for an extraordinary multi-day immersion experience swimming with wild dolphins & experiencing deeply profound transformational healing technologies on the Big Island of Hawaii. Attain a state of joy, peace, love, & empowerment.
What Andi and Jonathan Goldman have to say about Takara's healing guided meditation technology you will experience in the Hawaiian Deep Dive.
After reading an unpublished book I wrote containing the healing meditational technologies, it was Andi that said "this needs to be a workshop."
"….an intriguing and insightful journey of self-exploration into light and consciousness. A must read (experience) for all those seeking inner peace and unlocking the door to their inner wisdom." – Andi & Jonathan Goldman, world renowned sound healing pioneers and authors "Tantra of Sound: Frequencies of Healing"

 
It is FINALLY Time!
For the first time EVER, Takara will personally lead you through a multi-day experience taking you step by transformational step through the powerful healing technologies she "received" from the dolphins while in deep trance on a sacred mountain in northern New Mexico many years ago. It has taken her 13 years to fully integrate the teachings, initiations, and vibrations so she can make all of that available for you.
"How do you thank someone who comes into your life and because of her influence your life is changed forever? Takara has graced my life with her many talents and skills. Especially through her healing arts, I have made quantum leaps forward in my life. At one crisis point she was able to facilitate my integration of a significant shift in only 10 minutes! I had been beside myself for over two weeks over the issue. Her knowledge, and keen ability to share it, have enriched my life forever! Perhaps due to her engineering and teaching background, she has an amazing ability to take extremely complex concepts and information and boil it down to bottom line usefulness with clarity. She makes things implicitly simple and understandable to a lay person. Her extensive studies in metaphysical and philosophical areas allow her to create freeways for those of us who don't have time to sift it all out. The clarity she creates with her accelerated techniques allows you to quickly come on-line with the information, to transition, and to push past limitations." – Theresa WrightCarlsbad, California
Combining the finely-tuned healing vibrations of the Dancing Dolphin Alchemical Synergies (transformational healing oils she personally infuses), Dancing Dolphin Discs (sacred symbols that act as a portable healing vortex), the magic of her harmonic voice, the vibration created by her energy field and the dolphin-angels, Ascended Masters, and other multi-dimensional beings that accompany her, you will:
Connect deeply with dolphins, the sea, Hawaii, & your true essence self.

Break through the fears & limitations keeping you from living your Divine purpose.

Learn Takara's dolphin teachings about the Platinum Principle, the Noble C's and how to implement them into your daily life for health, happiness, & greater success.

Release eons of "bad" programming and emotional pain.

Learn to greatly enhance your intuition and ability to "tune in" to Divine wisdom.

Discover how to step into your true magnificence, align with the Divine, and get into perpetual flow with the Universe.
Save
Save
Save
Save
Save
Save
Come Play with Us!
Save
Save
Save
Save
Save
Save
Save
Save
Save
Save
Save
Save
Save
Save
Save
Save
Save
Save
Save
Save
Save
Save
Save
Save
Save
Save
Save
Save
Save
About Your Trip

Every day of your Dancing Dolphin Hawaiian Deep Dive experience you will be meeting with Takara and experiencing powerful healing meditations, teachings and insights, sound healing and other vibrational healing methods and techniques. Each teaching/healing session builds on the one before.
"In my experience of over 20 years of knowing Roberta, and swimming together with dolphins, she has the most remarkable natural empathy with dolphins that I've yet come across. Her combination of high intelligence, a strong emotional body, and a nurturing nature makes her an ideal person to facilitate magical encounters with dolphins. I always recommend the dolphin trips she guides to all my curious and adventurous readers." – Timothy Wyllie, author, Ask Your Angels; Adventures among Spiritual Intelligences: Dolphins Extraterrestrials Angels; Angels, Aliens, Dolphins & Shamans, and Return of the Rebel Angels
Even though specific details are still being worked out, here are a few things you can expect …
First Evening
Gather together for the first time
Form our human pod and get to know one another, meet Takara and Roberta
Experience your first transformational group session with Takara
Day Trip to the Volcano:
Gather
Travel to the volcano, enjoying fabulous views and stops along the way
Lunch at the volcano with Kumu
Experience teaching, sound healing, and ceremony with Kumu, an extraordinary sound healing chant master Kahuna
Group session with Takara and Roberta
Watch the sunset and the volcano glow
Travel back to your hotel

Wild Dolphin Swim Days:
8:30 a.m. (first dolphin swim only) – learn about water, snorkel, dolphin, and boat safety
From 9 a.m. to 1 p.m. we will have our wild dolphin experience led by Roberta
Wrap lunch (provided)
Afternoon transformational group session with Takara
Dinner break (on your own)
Evening transformational group session with Takara
Final Day:
Time together in nature
Review all that we have experienced and learned
Final session
"Roberta Goodman had the privilege of working in dolphin communication research together with the legendary Dr. John Lilly. She has a massive amount of intimate experience with dolphins in captivity and also, since initiating the release of two dolphins, dolphins in the wild. — Due to her real respect for dolphins, she now only works with dolphins in the wild. With her truly visionary understanding of the role of dolphins in human evolution, Roberta is the most loving, exciting, and joyous dolphin guide I know. She truly cares that we humans have a most amazing contact with the cetaceans in the wild." – Ilona Selka, International seminar leader and international author of Journey to the Center of Creation and Yoga of the Soul.

 
About Your Facilitators
Save
Save
Save
Save
Save
Save
Save
Save
Save
Save
Save
Save
Takara Shelor – Your Workshop Facilitator
Bestselling author, award-winning speaker, dolphin emissary, engineer, mystic
Takara has the ability to alchemically combine and transmit a vast array of powerful healing energies. In 1993, dolphins began spontaneously appearing each time she closed her eyes in meditation; a practice she began to counteract severe work-related stress. Soon she left her job as an engineering manager in the pharmaceutical industry, moved to an island, changed her name, and started a non-profit for dolphins and whales. These etheric Dolphin-Angels became Takara's gateway to the Divine, acting as teachers, guides, emotional rescuers, healers, and much more. They continue to guide her in the creation of highly effective transformational healing tools and technologies. Several things happened in 1998 while she was living on top of a vortex-filled mountain in Southern California: 1) She "brought in" the words to the Golden Water Dolphin Meditation for Planetary Healing, which she and thousands of others perform together each Spring and Fall Equinox. 2) She upgraded the flower and gem essences she was developing with sacred sound and the dolphin healing and other transformational energies that come through her, calling them Dancing Dolphin Alchemical Synergies. 3) She gave birth to her son at home in water, with dolphin sounds playing on the stereo and only her husband present. In 2003, she began taking groups to swim with dolphins. That same year, she was inspired to take a writer's sabbatical to a remote NM location. It was the same location that Stuart Wilde, her metaphysical mentor, went to bring forth his Taos Quintet. While there, she remained in a trance (theta brainwave) state for several days, bringing in the Divine healing technologies she calls "The Dancing Dolphin Way." Each of these unique and powerful meditations help a person to radically shift their energy, release eons of mental/emotional trauma and limiting beliefs, rise in consciousness and awareness, and come into a state of balance, peace, joy, and empowerment. She co-created with Sound Healing Pioneer, Jonathan Goldman, the Essence of Sound – infusing his music into Dancing Dolphin Alchemical Synergy oils. Two of her books, Dolphins & Whales Forever and Peering Through the Veil: The Step by Step Guide to Meditation and Inner Peace, have become Amazon bestsellers. She has several other books and is writing several more. Thousands of subscribers, from over 100 countries across the globe, enjoy her free email newsletter, Here's to Your Magnificence. She offers workshops online, on land, and at sea, and provides long distance energy healing and private consulting sessions. In addition to dolphin and energy healing work, she mentors authors and helps small businesses thrive online.

Roberta Goodman – Your Dolphin Swim Facilitator
Bestselling author, dolphin swim guide
Roberta's career began in 1978 when she read Dr. John Lilly's book Communication Between Man and Dolphin. She spent four years at Marine World in self-directed communication studies with the 9 bottlenose dolphins as a research assistant and diver for the park. Later, as Research Director for the renowned Dr. Lilly, she initiated the release of the Human Dolphin Foundation's dolphins, Joe and Rosie. Roberta co-founded the Cetacean Nation with John Lilly in 1993, declaring the rights of whales and dolphins as people. "One day," she says, "we will all understand the wisdom of the dolphins as we now understand the wisdom of indigenous peoples." Roberta's vision is to create a center for the naturalization of domesticated dolphins into the ocean. Tanks To Sea is her ongoing dolphin adaptation and documentation project. Since 1986, Roberta has interacted exclusively with dolphins in the wild and offering private guide services to assist others in having that same exhilarating experience. Her communication studies continue during her daily trips to pods in Hawaii.
Takara and Roberta have been friends for 20 years. They first met through Cetacean Nation. Later Takara became Roberta's web master. More recently, Roberta was a contributing author to the bestselling book collaboration, Dolphins & Whales Forever, led by Takara. Two years ago they met in person for the very first time and then traveled coast to coast together on the Dolphins & Whales Forever book tour.
Save
Save
Save
Save
Included:
4 wild dolphin swims,
day trip to volcano for ceremony and teaching with a chant master Kahuna and to enjoy the volcano glow at sunset,
7-day workshop with numerous guided meditations, teachings, energy transmissions & other transformational experiences with Takara,
6-night hotel accommodations (shared room) at the Royal Kona Resort,
transportation to and from boat, the volcano, daily group sessions with Takara, any other group island excursions,
powerful sound healing ceremony at the volcano,
Dancing Dolphin Alchemical Synergy oils,
3 Dancing Dolphin Discs,
Dancing Dolphin Hawaiian Deep Dive Workbook,
and more!
Not Included:
most meals,
tips,
taxes,
transportation to & from Hawaii.
There is a wide variety of local food options, including vegan.
Cost: $1777.
Space is limited!
Dancing Dolphin Hawaiian Deep Dive – $400 Deposit
(Transferable but Non-refundable)

Dancing Dolphin Hawaiian Deep Dive – Final Payment
(Final payment is due by September 15th)
Save
Save
Save
Save
Save