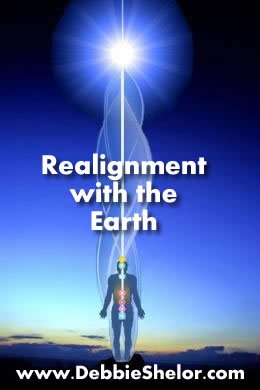 There have been many earth changes lately.
Those really affect you, even if you don't realize it.
We are all connected to the earth. Being out of alignment with the earth causes stress, lack of clarity, feeling off center. It even causes your various energy fields to spin out of alignment with one another and with the earth. It can cause you to be irritable and even have physical issues.
Here is a fast way to get relief and be more aligned. It is actually beneficial to do this every day as the energies everywhere are shifting and you are being re-calibrated to handle the higher frequencies.
Meditation for Realignment
Sit with your eyes closed. Take a few slow deep breaths. Focus your attention on your heart. Find something to feel grateful for.
Ask Archangel Michael to place a protective grid around you. I like to ask him to wrap his wings around me. It feels very nice.
Ground yourself by seeing giant roots growing down into the earth from each of your feet. See the roots grow and spread as far as possible. Feel yourself firmly anchored to the earth.
Ask for the dolphin spiral clearing and infusion to cleanse your field. You don't have to stand and spin, just ask that it be done. The instructions are in the free ebook Dancing with Dolphins that you were gifted when you joined the newsletter list. If you don't have the ebook, you can get it here.
Ask your High Self and Guides to:
realign
rebalance
reharmonize
recalibrate, and
upgrade you to the next level of your Divine blueprint.
See yourself bathed in the blue/silver ray. It is a shimmery baby blue. It is Divine alignment.
Thank Archangel Michael, the dolphins, your Higher Self and Guides.
I've made a new gem essence of the Divine Alignment vibration using Blue Kyanite. If you are very sensitive, the essence can greatly assist you. It can be found in the blends of Resurrection and Break Through.
Spend as much time as possible in nature, in meditation, and in silence to assist you to re-harmonize with what Earth is doing right now. Rest as often as possible.
Many people have let me know that they had dreams of earthquakes and tsunamis before they happen and they were throwing up as it occurred. I don't know how to prevent you from having premonitions – I'm not even sure having premonitions is a bad thing. But this next exercise will help you to not have so many physical reactions as the earth is shifting.
Imagine a 2 foot thick magenta filter or buffer underneath you. It is always there where ever you are. Whether you are lying, or sitting, or standing it is between you and the earth. You can still ground, but you are grounding through a filter. You are still connected, but you don't have to take on any detrimental earth energy. (I learned this from Amorah Quan Yin's Pleiadian books.)
Some people are so sensitive that all the fear and mourning is causing emotional stress. If you are one of those people, just put yourself in a giant energy egg. Extend the magenta filter under your feet to all the way around you. You are in a giant magenta filter cocoon. Magenta is not only protective, but it is soothing and healing. It is a powerful ray. See yourself bathed in it.
Comment below and let me know what experiences you have using these techniques.
* I do not know the original source of this image. If you know the designer, I would love to give proper attribution. THANKS!
This is an update of a previously published healing exercise I created.