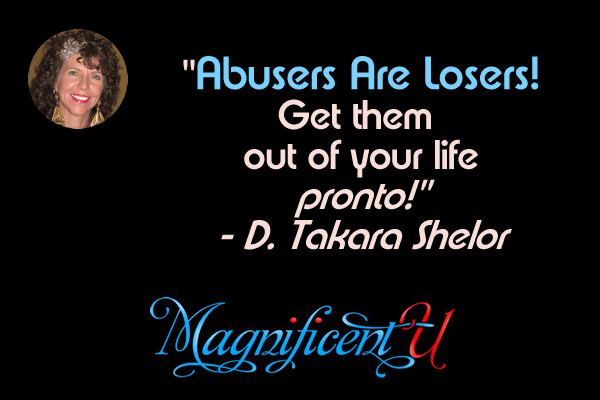 NO amount of abuse, whether it be physical, mental/emotional, or spiritual/energetic, is acceptable. Any time you are not being (feeling) loved, honored, accepted, and/or appreciated for who you are, it is often a sign that abuse of one kind or another is happening.
I've been through various forms of abuse myself and thankfully I've healed, moved on, and lived to tell the tale. Over the years I've also worked with hundreds of clients who were facing similar issues. There is a saying that goes, "Religion is for people who are afraid of going to hell, Spirituality is for people who have already been there." Many who turn to spirituality, metaphysics, energy healing, alternative/complementary medicine, etc. do it to heal issues that, whether they realize it or not, began because of abuse of one form or another.
I've written many articles about who you allow into your inner circle. I can't stress enough how truly important that is for your health and physical / mental / emotional / and spiritual wellbeing.
Who and what you allow in says to your subconscious mind, the Universe, and those around you what you desire and deserve.
Every time you allow abuse, you are saying: "I deserve that. I am not worthy of being honored, loved, respected, and appreciated. I am not lovable"
Those are horrendous affirmations and they must stop NOW!
Because, Dear One, they are absolute LIES!
You are magnificent!
You are an embodiment of Divinity walking on planet earth!
You deserve everything – to be happy, healthy, and successful as you define success!
You are a precious gift and you deserve all that you desire.
Not sticking up for yourself is also abusive. It's you abusing yourself, saying you don't deserve better.
And yet, when you are in it, you feel:
stressed,
afraid,
less than,
unworthy, and/or
unlovable
No matter how smart, or seemingly successful you are, you often can't see a way out. Or, as a defense mechanism, you don't even allow yourself to see or recognize that you are being abused.
Abuse of any kind causes damage not only to self esteem, but also to the energy field (aura) around you. When the energy field is damaged – ripped, shredded or torn – all sorts of icky sticky energy can "get in" and then you have even more disharmonious/noxious stuff to deal with.
If you find yourself in an abusive situation, call on a friend and ask for support from the Universe (God by whatever name), and get out as fast as possible! Find a place to step back into wholeness that is safe.
Most Dancing Dolphin products were designed to assist with putting things back into wholeness, harmony, and alignment energetically. Each one of the sacred healing oils and mists helps to soothe the hurt places, to lift you up energetically so you can see more clearly and heal what needs to be healed and deal with what needs to be dealt with.
The perfect energetic to support anyone facing current or past abuse of any kind is the Dancing Dolphin sacred healing oil of Turquoise. It is nurturing, healing, protective, helps to lift you up into a safe space for healing and transformation. And, like all Dancing Dolphin products, contains Dolphin Healing Energies and other powerful energetics that take you and your spiritual journey to a whole new level.
Dancing Dolphin Turquoise oil is available here.