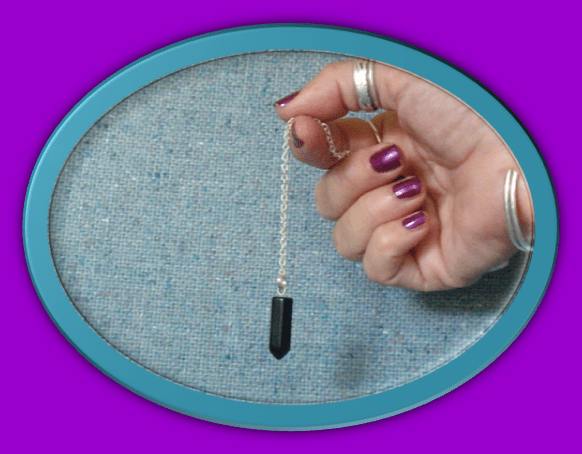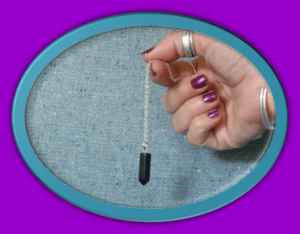 I spent countless hours at booths at the International New Age Trade Show in Denver, searching out what other dowsing pendulums are available on the market.
I was pretty disappointed by most of what I found.
The best way I can think of to describe most of the pendulums out there for dowsing is this: "They must have been designed for energetic neanderthals!"
Big, clunky, and in some cases downright ugly, or, cookie cutter, same old, same old, for the rest. Even my favorite pendulum designer from India had abandoned his outrageously fabulous and unique smaller designs for bigger, clunkier models.
Ick!
That's how I felt about all of that.
Ick!
I'll say it again.
Like all the energy healing tools I work with and create, most of the pendulums designs we offer are highly refined, simple, elegant, small, and highly responsive.
I'll weigh some pendulums to give you a point of reference. The heaviest pendulum point that I own personally (not one of my designs) is 13 g / .4 oz. (overall weight 15 g / .5 oz. The points for some of my new designs are 3 g / the scale won't even read the point in oz. (overall weight 7 g / .2 oz.).
Of course, I have a few that are heavier, but of significantly different materials and feel than the rest of what's out there.
As you raise your level of consciousness and your personal frequency, you become more highly refined, more "tuned in" and sensitive to yourself, the energy around you, the people and places you encounter. And you don't need big clunky energy tools that because of their weight can be easily dropped and broken.
You need something that has been lovingly created and energized with powerful healing frequencies. And that is exactly what you will find with the dowsing pendulum designs we create.
While away in Santa Fe and Denver, I acquired several semi-precious crystal beads and points, some amazing lapedolite egyptian cut pendulum points, lots of chain and many other new items for pendulum creation.
At the dowsing class I taught in Santa Fe, and at many of the other locations I visited, people were delighted to buy our new pendulum designs. Several people purchased more than one of the new pendulums I'm now offering. I'm confident you will enjoy them too!