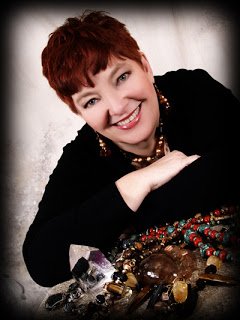 (c) AnnaMariah Nau
These dancing dolphins bring a sense of joy, abundance and hope into your life. When I received these beautiful carved chrysophrase pendants I finally realized why they had entranced me so when I found them online. The message of dolphin and the energy of this gemstone are in absolute harmony; joy, health abundance and the infinite love of the Universe. It is simply impossible to experience these pendants and not be moved at the magnificence of life and connection to source and all that is.
You don't see chrysophrase much, as it is fairly rare and often extremely pricey. Often chrysophrase is a brighter spring green color, but there's something about the depth of color in these pendants that I find appealing. It's as if it pulls you down into the depths of yourself, expanding your heart and allowing deep healing as you swim through the emotional waters of your life. You will find that what was previously hidden becomes clear with insight into who you are and what is yours to do; remember your birthright of joy, health, love and abundance. As you allow the energy of the stone to work with you, your shadow self will be illuminated with love allowing your heart and soul to expand into the beauty which creation knows you to be.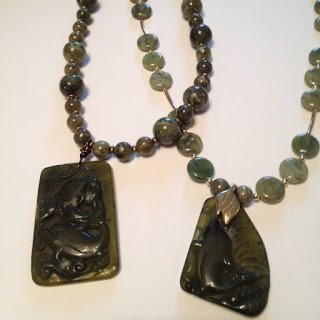 I will admit to having been initially stumped as to what stone to put with these pendants. I had some ideas that seemed so perfect in my mind, but when I brought them out the color and the energies clashed making me shudder in horror. As I looked at the hundreds of strands of stones hanging by my workbench, my eye finally spotted several strands of Grossular Garnet, the color was perfect and when I put them together I could practically feel the dolphins begin to dance and chatter to each other.
Grossular Green garnet is one of the most potent manifestation stones available as it helps you to ground abundant manifestation. If you can conceive of an idea clearly in your mind, this stone will help you bring it to life in reality as you experience the confidence and motivation to make things happen.
Wearing or holding grossular garnet will facilitate healing all prior limitations affecting both health and wealth as you perceive true abundance in your life and celebrate it with joy as you change old patterns of scarcity into new ones of loving abundance. It may also help you learn more about yourself and your purpose on Earth.
You may not be able to swim with the dolphins every day…but you can do the next best thing when you wear these gems together to bring forth all the best of dolphin energy. While the stones don't have to be carved into dolphins it does seem to doubly enhance the magic.
http://www.boldbodaciousjewelry.com/large-multi-view/Gemstone%20Highlights/2059439-2-167377/Gemstone%20Highlights.html#.ULqHOIaVp-0
AnnaMariah creates beautiful, one of a kind pieces that transcend jewelry. As a gemstone empath she connects deeply to the energy of the stones. In her hands a simple necklace becomes a tool to balance and support your energy, as well as making you look fantastic! She focuses on the beauty and magic inherent in the stones, so her pieces are always unexpected. When you find the piece that is right for you you'll be amazed at the transformation as it connects with your energy and brings out your inner radiance in ways you hadn't considered yet.
Bold Bodacious Jewelry
http://www.boldbodaciousjewelry.com
annamariahnau@gmail.com
703-763-1655