Dolphin Essences, Whale Essences,
&

Orca Essences from Across the Globe
Dolphin essences, whale essences, and orca essences
They're called Dancing Dolphin Essences for a reason … Every essence is infused with the sacred healing energies of dolphin-angels, whales, orcas and more.
These essences were created with you in mind. To enable you to immerse yourself in the powerful healing energy of the dolphins and whales wherever you are in the world. Each essence has been infused with the energy direct from the Gray whales of Baja, Mexico, Humpback whales of Moorea (Lemuria), Dolphins of Bimini and the Orcas of the Pacific NW. Now, you no longer need to travel to feel the energies of the dolphins and whales with you whenever you want.
Takara Shelor of Dancing Dolphin Essences ~ Magnificent U, along with Anne Gordon of Whale & Dolphin Wisdom Retreats, bring you dolphin essences, whale essences, and orca essences from across the globe.
A point of clarification … these are NOT essential oil blends. They are energy healing in a bottle … that's why Takara calls them "essences" or alchemical synergies. The base is all organic fractionated coconut and red raspberry seed oils. They are infused with flower essences, gem essences, sacred sounds, lots of other healing frequencies, plus the dolphin healing frequencies that Takara channels into each one by hand. She's been channeling dolphin healing frequencies and other energy healing vibrations since 1993. She adds a tiny bit of organic essential oils to each essence just to give it an interesting aroma … like icing on a cake.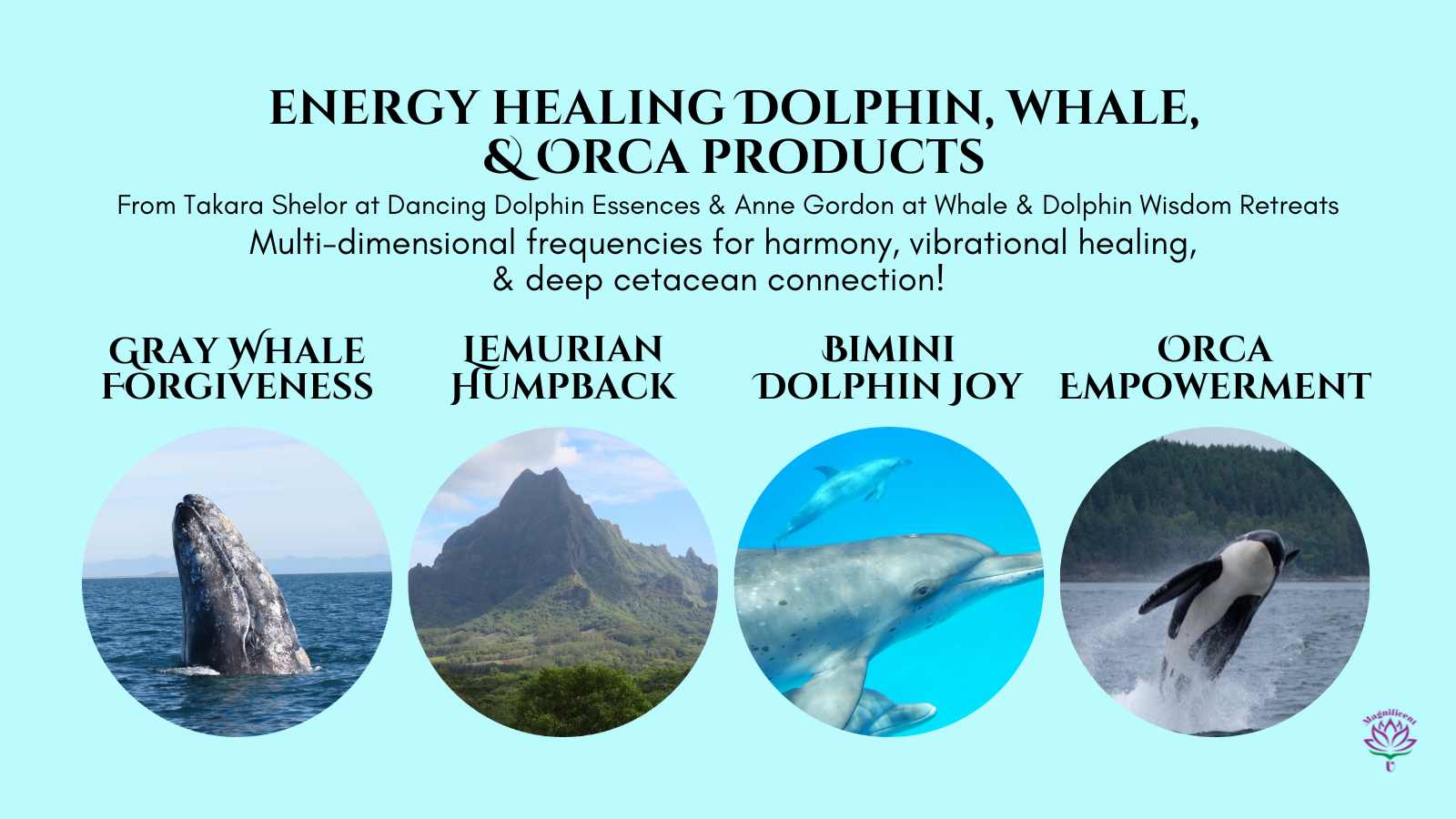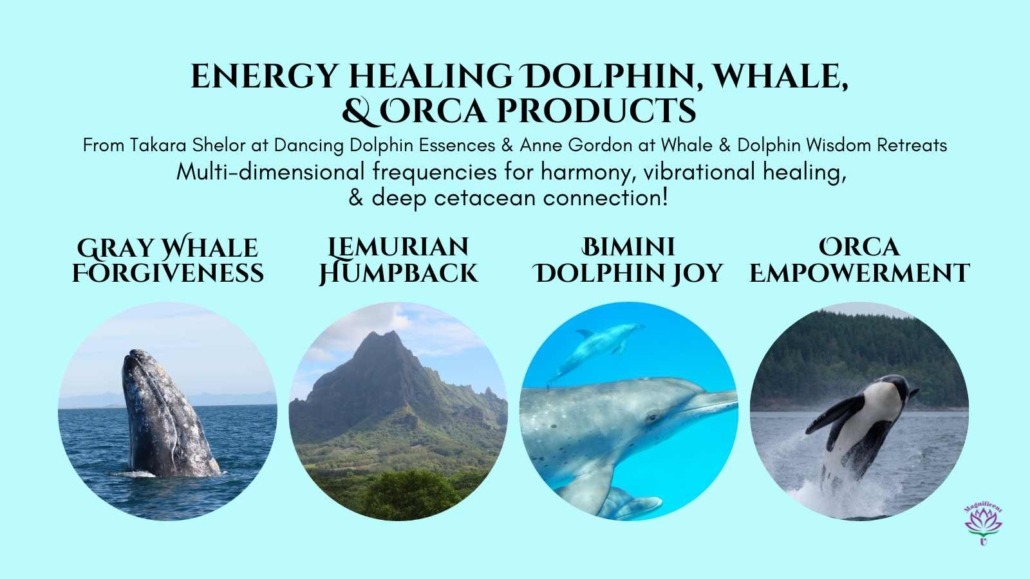 Bimini Dolphin Essence of Joy
The Bimini Dolphins are truly joy filled and elicit bliss in those who encounter them. This dolphin essence is infused with the powerful energies of Bimini (a dolphin haven in the Bahamas out islands), the dolphin frequencies held by the dolphins who swim in those waters, plus very special frequencies that Takara "brought in" while she visited the island many years ago. The wild Bimini dolphins have been joyfully swimming with human visitors there for many decades.
Once, when Takara was visiting the island for a dolphin trip, she underwent an extraordinary (and unexpected) initiation. She and a co-leader brought a group there for a week. One day, the water was too rough to take the boat out. So, the group was going to be going on a hike instead. Takara had an inner knowing that she was to stay behind and do some energy work. Her co-facilitator was happy to accommodate by leading the group for the afternoon.
Takara laid down on the bed in her hotel room and went into a deep trance state. It was one of those moments when you go so deep, you can't move your physical body. Then, suddenly, she sat straight up and KNEW she needed to head to the beach immediately. When she got there, it was completely deserted. And for the next hour or so she was in a completely altered state and "brought in" massive amounts of energy and information from an extremely high dimension. She was guided to enter the beautiful ocean. As she did so, she began speaking the Language of Light (something she's done since she was 14) while communing with her guides and the Divine overseers who had made that magical moment possible while she drew down the energies. After the experience was over, she walked along the deserted beach and found two beautiful shells – one shiny and new, the other very worn and ancient. She used those shells, along with the energies she brought in during the initiation, to create this very special transformational dolphin essence.
Gray Whale Forgiveness
The Gray Whale Forgiveness essence wanted to be created first. It is blazing with forgiveness energy. As Takara "drew down" the energy of the whales, it was wildly consciousness expanding. A powerful essence connecting you with the energy of the Gray Whales and the frequencies of forgiveness … to assist you in forgiving the past, other people, and even yourself.
Lemurian Humpback
This beautiful essence was designed to help you connect with Lemuria and the Humpback whales of Mo'orea. The land of Mo'orea reminds one of the ancient sacred land of Lemuria where humans and nature lived and co-created in harmony with one another. It was a time of gentleness, Divine flow, and the feminine was considered sacred. In addition to drawing in the energies of the Humpbacks and the island of Mo'orea, Takara created this essence with a giant Lemurian starseed crystal, as well as several Larimar crystals in the bowl as well.
Orca Empowerment
Orcas are incredibly powerful and magnificent beings. This orca essence is infused with their power, grace, and confidence to help you bring out those qualities within yourself.
Takara drew on the energy of the pods of the Northwest near San Juan Island where she once lived to bring this essence forth. She developed such a deep connection with them while living there that she could literally "feel" when they were near. She could be doing anything and suddenly the feeling would come over her notifying her of their presence. She would jump in her car, drive to her favorite spot on the west side of the island, scamper to the top of the hill, and just as she would start to sit down … 30 or more orca would begin swimming past. A truly empowering and uplifting vibration.