THIS IS A VERY OLD LIST.
Events, classes, workshops, book signings, seminars, expos, global meditations, energy healing, joy, empowerment, flower and gem essence, aromatherapy classes, wild dolphin swims, Dancing Dolphin Essence demos, talks, and other group events with bestselling author, D. Takara Shelor.
Get on the newsletter list by signing up (under "Free Gifts" in the menu) to receive my free eBook, 7 Secrets to Dancing Through Life EmPOWERed, EnRICHed, and Living in Joy!, to stay updated on workshops and events.
Live Classes, Workshops, and Events
In all of Takara's classes, what she is "guided" to share depends entirely upon who is present …. as their guides and Higher Self prompt her with topics and wisdom to share in the moment. She always "receives" insights while teaching and goes off on meaningful tangents sharing wisdom and insight for those who attend.
Advanced Energy Healing Exploration & Transformation
Thursdays, Online
7:00 – 9:00 p.m. Eastern, $22
In these ongoing highly experiential classes, Takara shares with you her 25+ years of experience, extensive training, and insights received through what she calls "Divine Revelation" (she receives directly from higher wisdom) about energy healing and transformation in its numerous forms. Each class we explore something new. A few of the things we "play" with include:
many many crystals (laying on the body, grids, & meditating with them),
sound healing (numerous forms),
color,
Dancing Dolphin Alchemical Synergy oils & mists,
deeply transformational healing guided meditations (each one is channeled, all are unique),
shamanic journeys (find your totem animal is just one example),
chakra balancing,
accessing other dimensions and realms (faerie kingdoms, stars),
medicine wheels and other teachings from Native American and earth-based spirituality,
discover how the Mayan Calendar can help you get more in tune with nature (which helps you get in tune with your true essence self),

the benefits of energy healing,

the difference between psychic energy and spiritual energy,

many stories of Takara's spiritual adventures (she calls herself a Spiritual Adventuress),

levels of consciousness (earth mind / Divine mind),

and so much more.
Feel free to join any time. However, classes tend to build on the classes that came before .. so the sooner you join in, the more profound the personal transformation you can experience.
Festival of Light

November 4th and 5th, Forest, Virginia Recreation Center
Play with all the energy healing tools Dancing Dolphin has to offer. Come and sample Dancing Dolphin Alchemical Synergies (sacred healing oils & mists with dolphin healing frequencies, aromatherapy, flower & gem essences, sacred sound, and more), test our huge selection of pendulums for dowsing, try on the beautiful dolphin healing energy infused semi-precious stone earrings, bracelets, and necklaces. Check out my bestselling books. I'll be holding offering lectures.
I have so many great things this year (some are new) ….
– Happy Hands – my new organic healthy hand sanitizer that also cleanses your aura – I've completely sold out of it at every show that I've done since it was introduced last winter … no matter how much I bring. At the Coptic Southern Conference recently, it sold out the first day!
– Necklaces, Bracelets, Earrings, Bracelet and Earring Sets – many are made from semi-precious healing stones that I have held and "activated" personally. Each is one of a kind, so get there early for the best selection. We've standardized most of our pricing, which in many cases means prices were reduced so more people can enJoy these fabulous healing tools that are worn like jewelry.
– Peering Through the Veil – my first bestselling book has undergone an update and has a brand new gorgeous cover. This is the first time it will be available. They just arrived this week. It was designed for anyone wishing to go deeply, in an esoteric metaphysical way, into meditation and get to the essence of who they truly are. Many people say they refer to it often and it brings them great joy, deep inner peace, and much more. I've infused every page with the healing energies that I bring through. Writing it was a gift to me. Reading it is a blessing for the reader.
– Dancing Dolphin Alchemical Synergy Sacred Healing Oils – the powerful Dancing Dolphin healing energies I channel housed in a beautiful blue bottle, enhanced with flower essences (that I personally create), gem essences (that I personally create), sacred sound, plus the proprietary energetic upgrade I personally infuse into each of them (including diamond star light energy), all topped off with the finest quality essential oils. The base is all organic fractionated coconut and red raspberry seed oils. There is literally nothing else like them on the planet anywhere! I bring a wide selection of oils that address everything from everyday needs like reducing stress (Inner Peace) and help with Forgiveness to Reclaiming Power (practically every woman I ever met needs some) to connecting with the magic of Camelot/Avalon. I also offer custom blends (typically $33 plus shipping, at the show $27 + free shipping in the U.S.) Come by the booth to try some and FEEL the Dancing Dolphin Difference!
– Dancing Dolphin Alchemical Synergy Sacred Healing Mists – like the above, only in mist form. A favorite is Magnificent Clearing Mist to cleanse your aura, your space, people who attend your workshops, etc. It offers a wider (broader) range of clearing than sage. And, you don't have to worry about smoke in indoor venues.
– Dolphin & Whales Forever – my #1 bestselling book for those who feel drawn to dolphins, whales, orcas, the Divine Feminine, the nature kingdom, and/or the ocean. Learn what is possible in connecting to nature, animals, and other beings. I invited my colleagues in the cetacean communication and healing arena to share their stories, their messages, and their amazing connection with our brothers and sisters of the sea in this magnificent book. An unexpected visit by dolphins while in meditation one day completely transformed my life. I later moved to the San Juan Islands to live near the orcas. So, of course, I share my own story of cetacean connection as well. This book has been blessing lives all over the globe ever since it first came out.
– The BioElectric Shield – this powerful and medically proven medallion helps protect you from the harmful effects of electromagnetic radiation, wifi signals, and (my personal favorite) other people's negative energy. GREAT for empaths and those who pick up disharmonious energies from others. If you get tired when you shop at the mall or travel on airplanes, chances are HIGHLY likely that you are sensitive to electromagnetic radiation. I've been wearing one since 1995 and have been a distributor since 1996. I typically only offer them online. But I decided to bring one to the show for you to see. I'll be taking orders and offering a discount at this event.
– Faerie Miniatures – When I'm not creating energy healing tools, working with private clients, traveling, or playing in the garden, I can often be found painting waves (ocean waves) or making deLightful little things that faerie's would love. At this show I'll have some adorable faerie fountains and miniature bird baths made with shells. Also some sweet little faerie houses made from tiny glass jars. Each is one of a kind. I rarely make this stuff, so get them while they last. I've never offered these at a show before. EnJOY!
Rapidly Fine-Tune & Enhance Your Intuition While Receiving Answers & Insights from the Divine with Pendulum Dowsing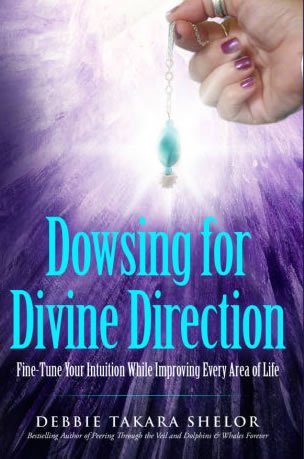 Not Yet Scheduled
Stop Guessing … Start Knowing!
Discover how to effectively use this powerful tool for healing, insight, enhancing & fine-tuning intuition, finding lost objects, clearing yourself and your space, personal transformation, decision making, and so much more.
Find out why people the world over have been dowsing for thousands of years, including notables such as Albert Einstein and Leonardo da Vinci. Now you can too!
Takara highly recommends the mastery of this tool to everyone. She has been creating pendulums and teaching individuals and groups how to dowse for many years. She has even written a book on the topic.
Radically enhance and fine-tune your intuition, learn a powerful clearing and healing technique, discover how to get answers directly to your most important questions. Free dowsing chart for those who attend.
Step by step instructions to learn how to: 
choose the perfect pendulum to get answers about your health, relationships, career, etc.,
hold a pendulum so it quickly and effectively gets to the answers you are seeking,
know when to dowse and more importantly, when not to,
use charts for the fastest answers to your most pressing questions,
frame your questions for the best, most accurate results,
program your pendulum so you know answers are coming from Divine wisdom and not "somewhere" else, and
practice dowsing so you can feel confident in the answers you are receiving.
Pendulum Dowsing is Takara's favorite tool for radically fine-tuning and enhancing your intuition.
You will receive a workbook and a copy of her favorite dowsing charts to take with you and practice on your own. Pendulums will be available for purchase.
RSVP is recommended.
Vision Boards & Leading a Magnificent Life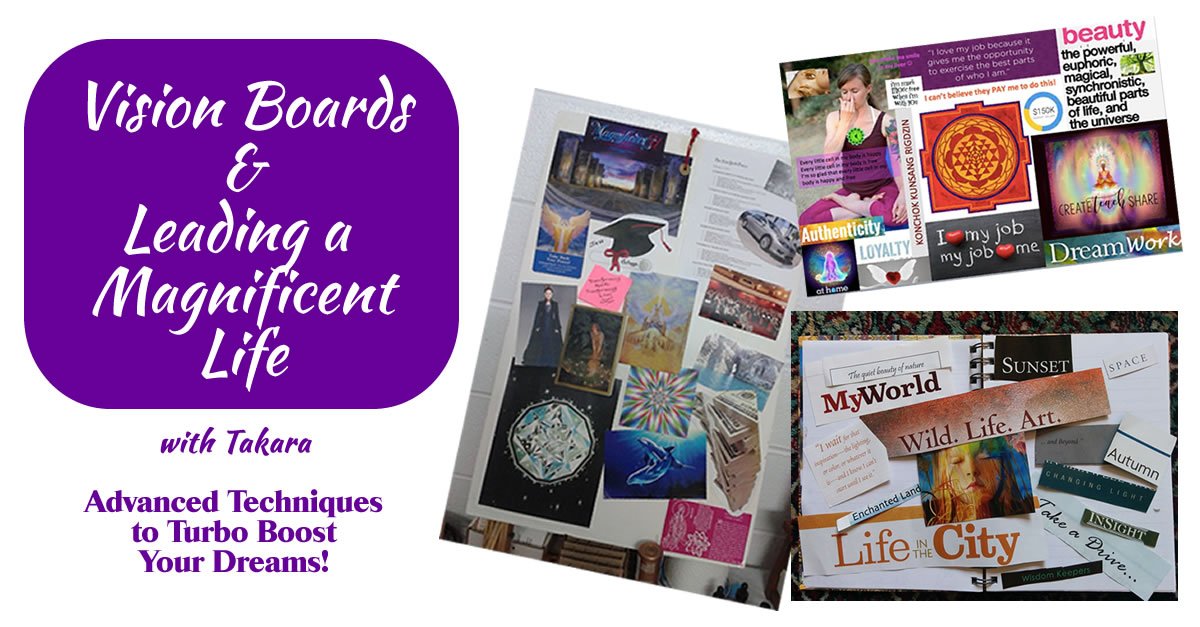 Not Yet Scheduled – people in Roanoke/Salem area are asking that I repeat this class. Details soon.
Turbo-boost your business and your life with vision boards and other transformational tools and insights. Whether you've done vision boards before or are new to "envisioning" your future into reality, you are sure to gain much from this highly interactive workshop. Takara's clients and students have successfully manifested new jobs, cross-country moves, world travel, romantic relationships, more money, more clients, and more joy. Fee includes a workbook and vision board materials. Bring a pair of scissors and old magazines (libraries often have some).
A few things we will be covering:
what a vision board is and why it's so powerful
how to get clear about what you are desiring – to include on the board
numerous ways to make vision boards – things Takara has learned & "received" in meditation
numerous stories of her own wildly successful use of them – that is guaranteed to spark insight about what you can do in your own life
Takara's teaching around relationships we are here to master, 5 practices she highly recommends to help you manifest, 9 things standing in your way and ways to "fix" those
how to best let the Universe know what it is that you desire
a couple of powerful guided meditations / visualizations that greatly accelerate the process
plus much more
We will be cutting out magazine images and words and building our boards, making them beautiful and meaningful.
Just an fyi for those who are thinking about attending: Takara is pretty epic at manifesting. She's manifested everything from cars to exotic trips to a husband to moves to locations where she wanted to live (Santa Fe, NM, Southern California, the San Juan Islands, Fiji). The turbo-booster insight she mentioned above is how she became a popular speaker on summits and is often interviewed on the radio. It's also how she became a bestselling author 3 times. She leads a year-long online manifesting mastermind with audios, videos, and live calls and she wrote a very popular ebook and taught a course called Manifesting Your Beloved – geared specifically towards romantic relationships. People still request the ebook. It was her most popular course in Southern California.
Global Water Healing Meditation led by Takara
Takara's has invited to lead one of the Global Water Healing Meditations one month each year for several years in a row. It is a monthly water healing meditation held the 1st Friday of each month. As she begins to guide the participants, she always ends up channeling the meditation. Join her along with some of her cetacean expert friends,  9 am Pacific Time, 12 noon Eastern time by calling (USA) 641-715-3580, access code 158090# Visit this link for details and to listen to previous meditations: Global Water Healing.
Craft/Artisan Faire at Yogaville


Yogaville has become somewhat of a home away from home for me. Every once in awhile, I am invited to bring my jewelry, oils, and other goodies to this afternoon craft fair. There will be lots of other jewelry and wonderful items being offered. If you have never been to Yogaville, this is your perfect excuse to visit. Come early to meditate in The Lotus at noon.
Recorded Workshops and eCourses
A few of Takara's available workshops include:
Pendulum Dowsing (to fine-tune intuition)
The Dancing Dolphin Way of Healing and EnLightenment (16-week course)
The following classes are being planned for the New River Valley and Roanoke/Salem areas of Virginia
– It has been requested that Takara put together an ongoing monthly course in energy healing, crystals, flower essences, essential oils, shamanic healing, hands-on healing, color, sound, meditation, body-prayer, herbs, etc. etc.  Let her know if you are interested.
– Pendulum Dowsing for Divine Direction course. Dowsing is the fastest way I've discovered to help you amplify and fine-tune your intuition. It's truly a personal and business success superpower that can absolutely change your life and help you become much more personally empowered while simultaneously being more aligned with the Divine.
Let her know if you are interested in either of these classes. She is also available to travel and teach any of her courses or bodies of work for large or small groups throughout the world.
Takara is looking for event hosts and locations worldwide.
Contact her to discuss details.
For a list of some of the classes and workshops Takara is available to teach, visit this link.
Sign up for the 7 Secrets to Dancing Through Life EmPOWERed, EnRICHed, and Living in JOY to be added to the mailing list and stay updated about updates as events and details are added. https://www.magnificentu.com/gift/