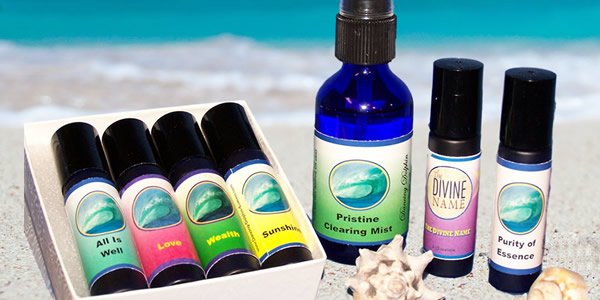 Dancing Dolphin Alchemical Synergy Flower Essences, Gem Essences, Aromatherapy Products
are for people who want:
More Love ~More Joy
More Freedom ~ More Flow
More Confidence ~ More Peace
More Empowerment ~ More Enlightenment
More Truth ~ More Insight
More Grace ~ More Ease
More Good Things in Life
More Connection with Nature
More Alignment with the Divine
Dancing Dolphin Alchemical Synergy Oils & Mists alchemically combine powerful, transformational, nurturing, harmonizing, balancing healing energetics with the finest all-organic ingredients.
70% healing energetics + 30% extraordinary ingredients
= 100% fabulous!
People often assume they are like so many other essential oils blends. They are SO MUCH MORE than that!
They are:
More than flower & gem essences
More than aromatherapy
More than sound healing
More than dolphin healing energies
They are a synergistic alchemical combination of all of that and more.
There is literally nothing else like them on the planet!
For help in choosing an oil or mist, visit this link!
IT TAKES YOU TO A PAGE WITH MOST OF THE OILS LISTED, A QUICK REFERENCE ABOUT WHAT THEY ARE FOR, AND A DIRECT LINK TO EACH OIL, MIST, OR KIT LISTED.
They are designed to assist those people who are ready to take a quantum leap in their personal spiritual evolution. Precision-tuned and highly transformational, they lift you up vibrationally while assisting you in harmonizing and balancing all aspects of self while coming into resonance with what you desire.
Harmonizing to Your Vibration
You are like a tuning fork. You will align with, and begin to "tone," whatever vibrations you take in or surround yourself with – be it hate or love, fear or joy, judgment or acceptance.
See the changes that happen when a Dancing Dolphin Mist is used in this video …
Einstein said you can't fix a problem at the same level of consciousness with which it was created. Dancing Dolphin Energy Products assist you in accessing significantly higher levels of consciousness.
Finally, a way to get help with the issues you are been facing!
Dancing Dolphin Energy Products use a unique alchemically created synergistic formula that envelopes you in a loving, joyful dolphin healing embrace that allows you to come into alignment, harmony, and attunement with joy, love, and the Divine Truth of who you are. In that uplifted, safe, and nurtured state, healing and transformation happen more rapidly.
"Takara's essences are outstanding! We've used them in large groups of people and they really seem to assist in the frequency shifting experience, adding even more vitality and loving energy to the consciously encoded sounds we either listen to or create."
– Jonathan Goldman, Internationally Renowned Pioneer in Sound Healing
These lovely synergistic formulas were developed by Debbie Takara Shelor – bestselling author, engineer, and "Chalice of Divine Frequencies." Each formula has been meticulously fine-tuned to give you the perfect alchemical combination offering maximum results for whatever issue you are facing.
Working with Dancing Dolphin Energy Healing Products is like having 24/7 support whenever you need it.
"I think these essences are amazing. I want to give one to everyone I know. I can't wait to get the next one. Takara, you are truly gifted and we are so glad to have found you." – Yvette S., Virginia
Visit this link for help in choosing an oil or mist.
In addition to the powerful Divine healing frequencies that Takara channels into each bottle, the various formulas also contain synergistic combinations of flower essences, gem essences, color frequencies, sacred sound, and numerous other carefully developed healing energies.
Each of the flower essences used in the formulation were personally made by Takara from flowers growing wild in their natural habitat. She personally creates all the gem, number, color, sound, and other essences she uses in these products as well.
Healing oils and mists contain the subtle delicate aroma of the carefully chosen finest quality essential oils from across the globe.
"I am thrilled with all the essences. It is such fun to go to the mirror in the morning and pick up the little bottles with their wonderful themes … bliss … opulence …. surrender … custom blend … manifestation … solar power … and apply the enchantment to my life. Truly it is magic in a bottle." – Diamond, Albuquerque, NM
So simple to use
Whenever you are feeling overly tired, which lots of people experience in the middle of the afternoon, just grab your little blue bottle of "Vitality," shake it gently, unscrew the cap, and rub the roller onto the back of your neck or any of your pulse points like cologne or perfume. Very quickly you'll feel more energized.
It really is that simple.
And they all work that way.
When You Feel One Way and You Would Rather Feel Another, Simply Roll One On and Feel the Difference
Dancing Dolphin Alchemical Synergy Oils and Mists are lovingly created by hand by bestselling author, engineer, mystic, and dolphin emissary, D. Takara Shelor. Dolphin-angels began appearing in her meditations in 1993. She spent the past 20+ years following intuition, experiencing profound initiations/transformations, receiving information through "direct revelation," and traveling the globe fine-tuning her ability to be a chalice of Divine frequencies. She personally infuses all Dancing Dolphin items with dolphin-angel, Divine feminine, and other extremely high-frequency precision energetics to help you achieve accelerated transformation in a gentle, loving, nurturing, uplifting way. Regardless of your path, Dancing Dolphin is here to assist and light your way. Apply to the back of the neck, pulse points like cologne, or chakras (energy centers). All organic. No animal testing.
They have been thrilling customers the world over since 1998.
Display 15 Products per page