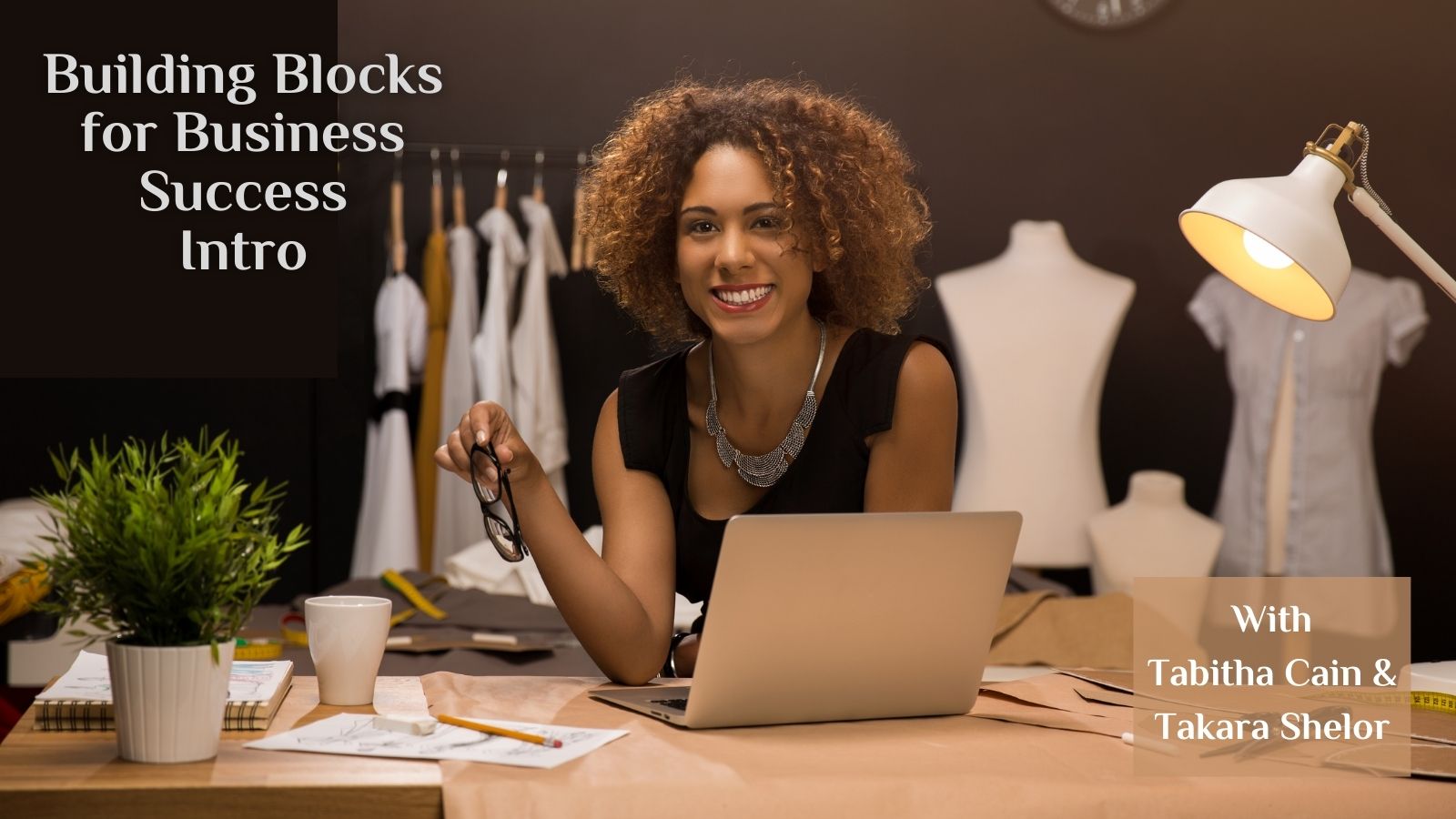 Takara Shelor
Building Blocks for Business Intro (Online)
Have you started a business, but now feel overwhelmed and don't know where to begin?
Not sure if it's actually a business or a hobby?
Have a really big vision, but don't know how to make it a reality?
Then join us on Feb. 21st to learn the 9 Fundamental Building Blocks for Business Success, Discover whether you have a business or just a hobby. Find out everything you need to know when starting a new business or growing an existing one. 
Far too many small businesses are built on quicksand. You need a firm foundation to have a lasting, successful business able to weather the ups and downs of small business today.
Many of those who leave the corporate world to strike out on their own are in for a rude awakening. The knowledge and skill set of the successful entrepreneur is not the same as the skill set they needed inside a corporation or working for someone else. The entrepreneur has to wear many hats and learn many new skills.  
It can be overwhelming to even figure out where to begin. 
When you know and master the 9 Building Blocks for Business Success, you will have a solid foundation with the greatest possibility of lasting success and growth.
Whether you are new to small business
or want to improve the one you already have,
this class is for you!
YOUR INSTRUCTORS
Tabitha and Takara were asked to assist a new business owner with ideas and strategies to run their newly acquired business. Because of the insights and strategies they each suggested, it became clear to both of them that their knowledge was desperately needed by new business owners everywhere. The Building Blocks for Business Intro training provides you with knowledge gained from decades of real-world experience by these two successful entrepreneurs. Some of the foundation building blocks they teach in this class are things they haven't seen anyone else talking about. It's all the stuff you need to know to be successful … and they're giving it to you all in one place.  
Tabitha Cain
– Started in Corporate America – manager, oversaw scheduling, customer service, purchasing, quality assurance, and continuous improvement

– Owned and managed several multi-million dollar businesses

– Business to business (B2B) sales 

– Snap on Tools – owned 2 franchises

– Worked for a non-profit

– Owned a Dress Store

– Owned a property management business

– Co-owns a floatation center
Takara Shelor
– Started in Corporate America – engineer, manager, helped a company go to self-directed work teams, front line supervisor for 40 people, won awards for corporate training and for the way she managed mutli-million dollar projects

– Created and ran a non-profit

– Began her first online business in 1996 and has been successful online ever since

– Ran the internet department at a Nissan Dealership single-handedly … mostly from home and mostly part time

– Is an entrepreneur with several product lines

– Is a Business Success Consulting helping authors, entrepreneurs, and small business owners with on and off-line marketing strategies, website design and development with the ideal client and industry in mind, search engine optimization (SEO), business funnels, email marketing, how to give a successful interview and more. 
Give Your Business the Firm Foundation it Deserves!


Sign up here

.


Click the donate button.
Put $89 under amount and indicate BB4B in the form.